Cadbury Creme Stuffed Chocolate Chip Cookies
Stuffed cookies are currently one of my favorite things! There's nothing better than biting into a cookie fresh from the oven and getting a melty surprise in the middle. These are similar in idea to the salted caramel chocolate chip cookies, but with a slightly different chocolate chip cookie recipe that ended up with my puffier cookies (good when you are stuffing things in the middle), and of course, there is the Easter twist! Make sure to use the mini creme eggs, not the solid chocolate ones because that wouldn't be nearly as fun (or rich)!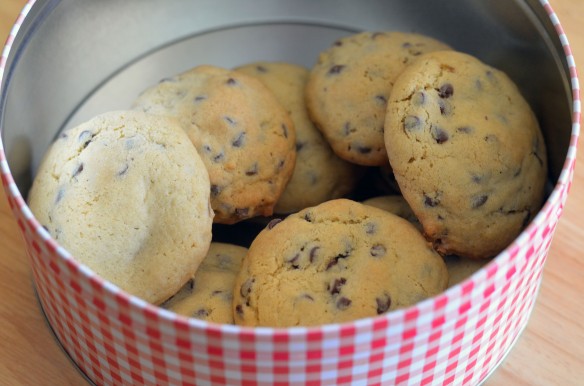 We had a mini Easter egg dying party in my lab to which I brought these cookies. Cookies are the best way to make friends in grad school!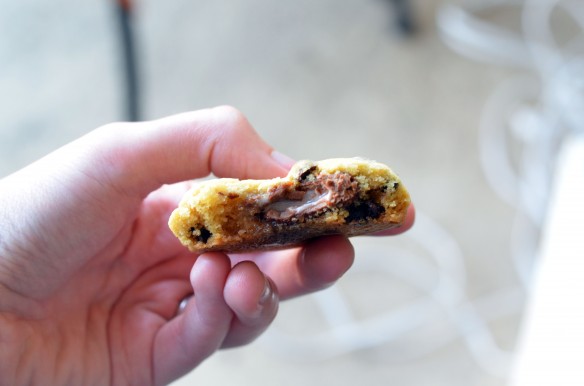 Cadbury Creme Stuffed Chocolate Chip Cookies
1 1/3 cup all purpose flour
3/4 teaspoon baking soda
1/2 teaspoon salt
1/2 cup unsalted butter, softened
1/3 cup granulated sugar
1/2 cup brown sugar, packed
1/2 teaspoon vanilla extract
1 egg
3/4 cup mini chocolate chips
12 mini creme eggs, unwrapped
In a medium sized bowl, sift together the flour, baking soda, and salt.
In a large bowl, combine the butter and sugars with a mixer until light and fluffy.
Add in the egg and the vanilla extract and mix until smooth.
Slowly mix in the flour, taking extra care to not over mix.
Fold in the chocolate chips.
Cover and place the dough in the refrigerator for about 30 minutes, so it isn't quite so sticky.
Preheat the oven to 350º.  Line a baking sheet with a silicone baking mat or parchment paper.
Take a small scoop of dough, flatten it out slightly and place a mini creme egg on top, wrapping the dough around the egg. Then take another small scoop  of  dough and completely cover the egg, forming the dough into a large ball.
Space the cookies evenly on the baking sheet and bake for 12-14 minutes or until the outside edges of the cookies are golden brown and the center feels slightly soft.
Allow to cool on the baking sheet for at least 5 minutes before transferring to a wire cooling rack.
Eat while still warm or place in the microwave for a few seconds before enjoying in order to give the center that melty goodness!