Hot Cross Bun French Toast Casserole
Yesterday's batch of hot cross buns made way more than we needed to eat on Easter Sunday, so I turned some of the leftovers into a French toast casserole that we baked up this morning. Since today is our wedding anniversary, it was nice to have an easy, yet kind of fancy breakfast to wake up to. I haven't really had the time to make an elaborate celebratory dessert (yet), so this was much needed.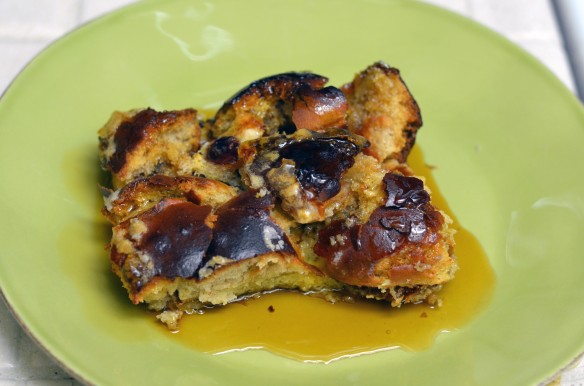 I'm not exactly sure what the difference between bread pudding and a French toast casserole is since they seem mostly the same to me. I guess with French toast in the title it's a better excuse to eat it for breakfast!
Hot Cross Bun French Toast Casserole
serves ~3
5-6 hot cross buns, slightly stale and torn into pieces
1 1/2 cups whole milk
1/4 cup granulated sugar
3 eggs
1/2 teaspoon vanilla extract
maple syrup, for topping
Spray a 8"x5" baking dish with non-stick cooking spray.
Place the torn bun pieces in the bottom of the baking dish.
In a bowl, whisk the milk, sugar, eggs, and vanilla extract together until smooth.
Pour the milk and egg mixture over the bun pieces.
Cover with aluminum foil and refrigerate overnight.
The following morning preheat the oven to 350°.
Bake for 45-50 minutes.
Cut into squares and serve with warm maple syrup.