Hot Cross Buns (with a hint of orange)
Easter is significantly less fun when you have a major statistics test looming in the very near future, but we made the most of the morning with hot cross buns, Monte Cristo sandwiches, and rosé sangria. For now let's just focus on the hot cross buns. Apparently hot cross buns are super popular on Good Friday with all types of lore surrounding them, but I've only eaten them once (last year when we picked up some delicious ones at Bakery Nouveau in West Seattle). I did vow to make and post them this year, which I was barely able to accomplish with all of the craziness of life going on right now. But I did it!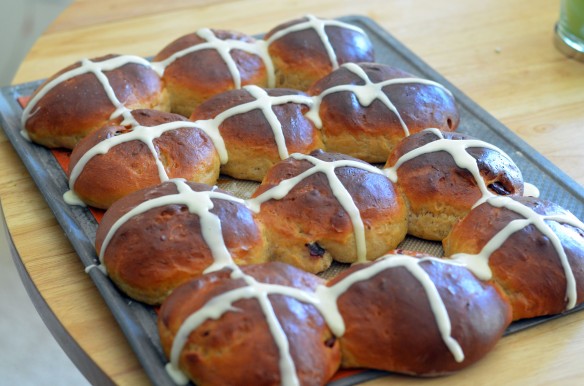 These don't take quite as long as last weekend's baking-with-yeast endeavor (AKA Top Pot doughnuts), but to serve with a noontime brunch, I did have to get them going by about 8:30.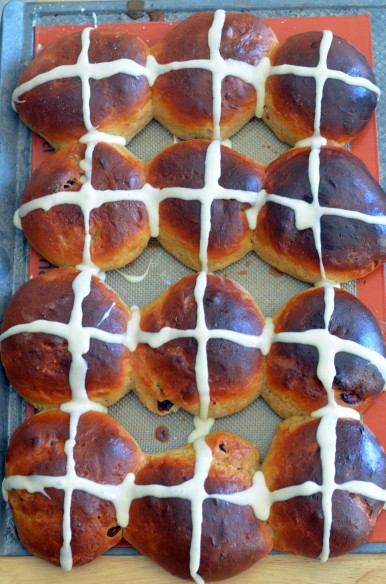 Instead of raisins, I used the orange flavored cranberries Dustin randomly picked up at Trader Joe's a few months back. I also added orange zest to the batter and used orange juice in the icing. Despite several sources of orange flavoring, the oranage-ness is pretty subtle, but goes nicely with the other spices in the mix.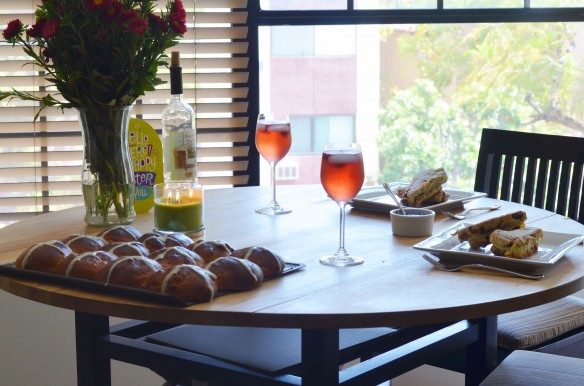 Happy Easter!
Hot Cross Buns (with a hint of orange)
yields 1 dozen large buns
 Buns
2 cups whole milk, very warm
1/2 cup canola oil
1/2 cup granulated sugar
1 package (2 1/4 teaspoons) active dry yeast
4 cups bread flour, plus more for dusting
1/2 teaspoon baking powder
1/2 teaspoon baking soda
1 teaspoon salt
2 teaspoons orange zest
2 teaspoons cinnamon
1 teaspoon nutmeg
1 teaspoon allspice
3/4 cup orange flavored cranberries (or any dried fruit desired)
1 egg + splash of milk, lightly beaten
Combine the warm milk, oil, sugar, and yeast in the bowl of a stand mixer outfitted with a dough hook, stir gently and let proof until foamy (about 10 minutes).
In a separate bowl, combine the flour, baking powder, soda, salt, orange zest, and spices.
Slowly add the dry mixture to the wet mixture. The dough will be quite sticky.
Cover with a towel for an hour,  until doubled in size.
Turn the dough out on a lightly floured surface and with floured hands, pat into a large disc.
Place about 1/3 of the cranberries on the surface of the dough then fold in half, so no cranberries can be seen.
Flatten the dough again and repeat with another 1/3 of the cranberries.
Repeat with remaining cranberries.
Pinch of a large ball of dough and place on a baking sheet lined with a silicone baking mat or parchment paper. You should have enough dough for 12 buns.
Cover with a towel and let rise for an hour.
Preheat the oven to 400° when ready to bake.
Brush the tops with the egg wash.
Bake for 20 minutes. The tops will be very golden brown, but they will still be soft and not the slightest burnt.
Allow to cool on the baking sheet.
Icing
1 1/2 cups powdered sugar
2 tablespoons orange juice
1/4 teaspoon vanilla extract
Combine all of the ingredients until smooth, adding more powdered sugar if the icing is too thin.
Place the icing in a plastic bag, snip off the edge, and draw crosses on the buns with the icing.
*Note that buns should be cooled completely before icing or the icing will get runny!
adapted from the Pioneer Woman