Oysters Rockefeller
Walking in to Santa Monica Seafood, I was nervous. How hard could it really be to shuck oysters?  Eating oysters, that I've got done. I mastered that skill very well in Seattle (hat tip to Seastar and The Walrus and the Carpenter). But making oysters at home has been one of those elusive foods we've just never done.
My fears were echoed back to me by the reaction I got from the fish guy behind the counter. We chatted about oysters for a little while, and it dawned upon me how little I really understood about them. When he packaged them up and told me "they're alive, so don't put anything on top of them", I was dumbstruck by the fact that I previously thought oysters were dead in their shells when you bought them.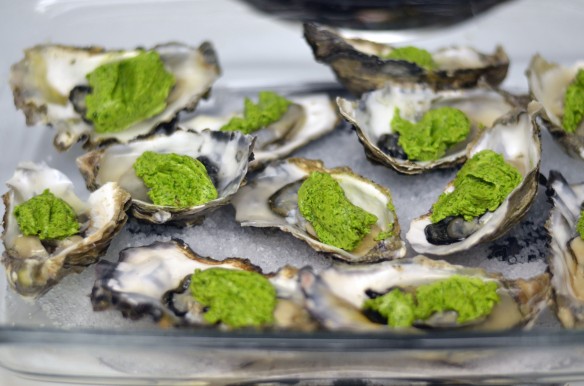 Nothing was building my confidence. Perhaps that showed in my face because after he wrapped up my oysters and asked if there was anything else, he casually asked, after a long pause, if I'd like to see how to shuck them. Yes, please, thank God!
After a quick tutorial and advice to go buy an a proper oyster shucking knife (yes, I was that unprepared), I was ready to take on this challenge. I was further inspired after chatting with the cashier about shucking oysters for the first time ever. He offered that it was a right of passage, and that I was becoming a man.
I'm proud to report that I shucked 12 of 12 oysters... a perfect score. After all the trouble, it's likely that those will be the only 12 I ever shuck, but I'm satisfied with the fact that I've at least done it once.
But, what inspired us to do oysters in the first place? It was the season premiere of Mad Men (the final season), and we decided to class it up 60's style and do a Mad Men inspired meal (with plenty of martinis). Oysters Rockerfeller kept jumping out in our Google results, so it was promptly chosen.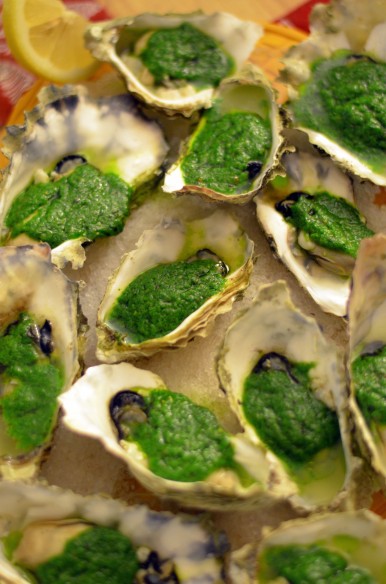 Once the oysters were shucked, the Rockerfeller part (at least our slightly different take on it) was very easy. Whipping up a little butter, herbs, anise liquor, and bread crumbs, makes a wonderful sauce which you plentifully dab on top of each oyster. A few minutes in the oven, and you have Oysters Rockerfeller.
I can't exactly tell whether it was the copious amounts of butter coating our oysters or that they were hand shucked in-house, but the meal was incredibly satisfying. Hopefully the final season of Mad Men lives up to the hype.