Cajun Shrimp Fettuccine Alfredo
Dustin has mastered the art of perfect pasta making. He consistently rolls out perfectly textured, perfectly tasting, and perfectly cooked fresh pasta on a regular basis now. While he makes the pasta, I make the sauce. I think we make a pretty good team.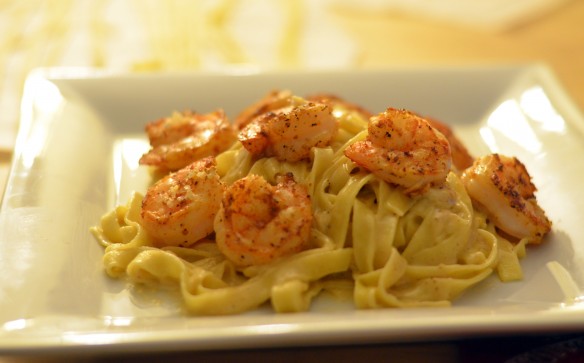 We bought Cajun seasoning to make red beans and rice, but I was thinking of other ways we could use it, and I knew I wanted to add it to shrimp. First I planned on making Cajun shrimp scampi, but ended up stumbling across a recipe for a Cajun shrimp fettuccine alfredo instead. I had all the necessary ingredients on hand (and leftover sherry from the gnocchi), so fettuccine alfredo it was. Surprisingly enough, we've never made a traditional pasta and alfredo sauce, which ultimately is probably a good thing since it's pretty much just cream and cheese, not something we really need any more of in our diet.
Homemade pasta is a definite must for this dish!
Cajun Shrimp Fettuccine Alfredo
serves ~3
1/2 half batch homemade pasta
3/4 lb shrimp, peeled and deveined
2 tablespoons Cajun seasoning, divided
1 tablespoon unsalted butter
2 cloves garlic, crushed
1/4 cup sherry
1 cup heavy cream
1/2 cup parmesan cheese, grated
1/2 cup pecorino cheese (may substitute for more parmesan), grated
Bring a large pot of water a boil.
While waiting for the water to boil, season the shrimp with one tablespoon of Cajun seasoning.
Melt the butter in a large pan and cook the shrimp for 3-4 minutes per side over medium heat until fully cooked.
Remove the shrimp from the pan and set aside.
Add the garlic, cook for about 30 seconds, then add the sherry to deglaze the pan.
Add in the heavy cream, remaining Cajun seasoning, and cheeses until the sauce thickens (about 5 minutes).
While thickening the sauce, add the fresh pasta to the large pot of boiling water and cook for about 3 minutes, or until the pasta floats to the top.
Drain the pasta and add into the alfredo sauce. Toss to coat thoroughly.
Plate and top with the shrimp.
Slightly adapted from Closet Cooking