Chicken Enchilada Soup
As I mentioned a few days ago, we were brimming with Mexican food the week before Cinco de Mayo. I fully intended to write out all of the posts for the delicious food we made, but then real life happened. This past weekend was my first experience as a graduate student where I understood how being a graduate student completely overwhelms and takes over your life. The worst part is that I've just begun a crazy period that doesn't give me rest until June 11th. Fortunately, Dustin is awesome and we were able to get all of Mexican meals to the table despite all of the busyness. We are just a little late for Cinco de Mayo, but that's ok because Mexican food is great any time of the year.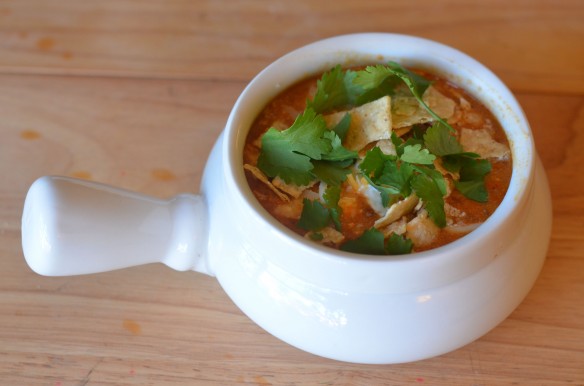 This soup is like chicken tortilla soup, but different. It reminds you of eating a bowl of chicken tortilla soup, but it's just different enough in it's flavor profile to deserve it's own unique title. Here I give you chicken enchiladas in a bowl!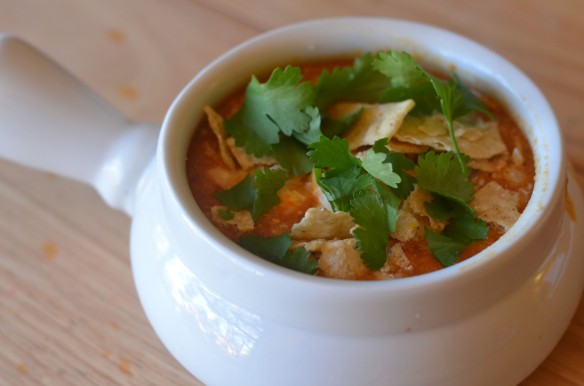 Chicken Enchilada Soup
serves 3-4
1 tablespoon olive oil
1 yellow onion, diced
1 red bell pepper, diced
3 cloves garlic, diced
8-ounces enchilada sauce
3 cups chicken broth
1 lime, juiced
1/4 cup masa harina
2 teaspoons cumin
2 teaspoons chili powder
1 teaspoon oregano
1 lb chicken breast
1 1/2 cups Mexican blend cheese, plus more for topping
1 cup sour cream + more for topping
1/4 cup fresh cilantro
tortilla chips, for topping
In a large skillet, heat the olive oil and cook the onions and bell peppers for about 3-4 minutes. Add in the chopped garlic and cook for another several minutes until soft.
In a crockpot combine the onions, bell peppers, and garlic with the enchilada sauce, chicken broth, lime juice, masa haring, cumin, chili powder, and oregano along with the chicken.
Cover and cook on high for around 3 hours.
Remove the chicken and shred before adding back to the pot. Stir in the cheese and sour cream.
Cook for another hour on low heat.
Serve with additional sour cream, cheese, and tortilla chips.