Chicken Tamale Burrito Bowls
We are celebrating the week leading up to Cinco de Mayo with a whole slew of Mexican recipes I've been brainstorming and saving up for the past few months (and margaritas), beginning with these chicken tamale burrito bowls. These bowls have everything I love topped on my Chipotle burrito bowl from the store, but made at home and with polenta instead of rice on the bottom. I added the word tamale because the polenta gives the dish something reminiscent of tamales. This bowl is endlessly customizable with your choice of meat, veggies, salsa/cheese/additional toppings, but here's what we did....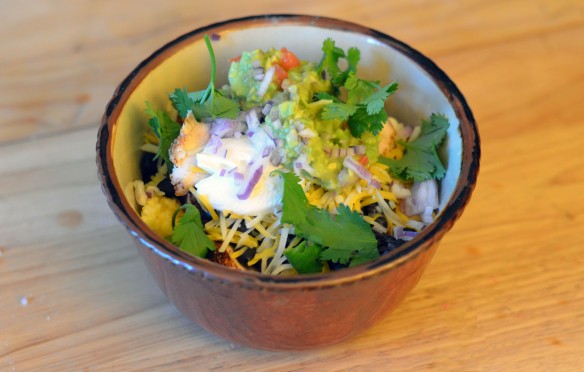 Chicken Tamale Burrito Bowls
serves ~3 people
3/4 lb boneless, skinless chicken breast
cumin
chipotle powder
cayenne pepper
garlic powder
salt
pepper
1 cup polenta
2 cups milk
1 cup water
1 tablespoon butter
1 cup Mexican blend cheese, divided
1/4 cup tomatillo salsa
3/4 cup black beans
1/4 cup sour cream
2 tablespoons red onion, chopped
1/2 cup guacamole
2 tablespoons fresh cilantro
Heat the grill and season the chicken breast with cumin, chipotle powder, cayenne pepper, garlic powder, salt and pepper to desired spiciness. Grill until cooked throughout (will largely depend on how hot your grill gets).
In a large, deep saucepan over medium heat, heat the water and milk.
Stir in the polenta, bring to a boil, reduce to a simmer, and cook until the polenta until thickened (15-20 minutes).
Stir in the butter and 1/2 cup of cheese. Keep on low heat until ready to assemble the bowls.
To assemble, place enough polenta in the bottom of the bowls to entirely cover. Top with salsa, black beans, sour cream, remaining cheese, red onion, guacamole, and cilantro.