Cajun Beer Can Chicken + Avocado Mashed Potatoes
We bought an entire case of Coors Light just so we could make this beer can chicken. The chicken itself was a fancy Jidori chicken, then we cooked it with Coors Light...I had to laugh at this disparity in the quality of ingredients.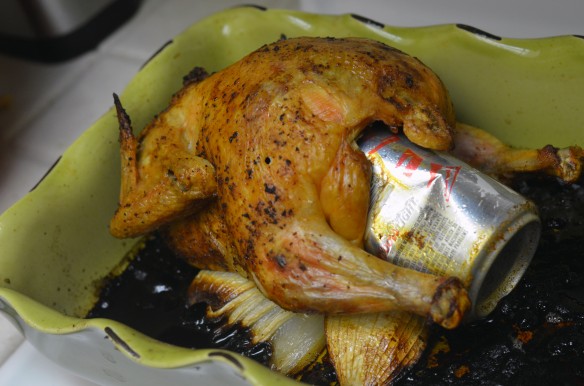 We really wanted to grill our chicken, but there was no way this chicken guy would be able to stand in our tiny apartment-sized grill, so into the oven it was. The most challenging part of this meal was getting the chicken to stand up tall and not fall over with the beer can stuffed inside. Our chicken was a little top-heavy, you see. As a result, we couldn't use our meat thermometer, and we slightly over-cooked our chicken. Better to have over-cooked chicken than under-cooked chicken though. Despite the fact that we slightly over did things, the chicken stayed more moist than your standard chicken baked in the oven. We rubbed our chicken down with a healthy serving of Cajun seasoning which gave it a nice, slight kick.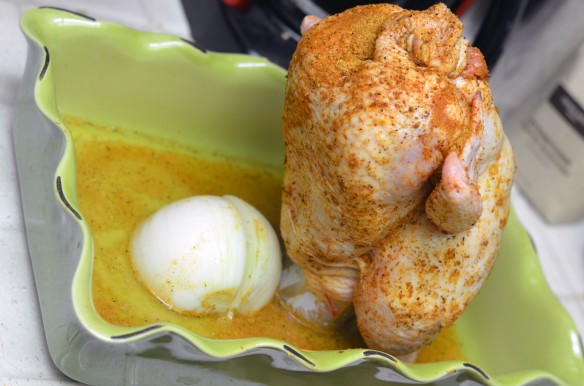 On the side we threw together avocado mashed potatoes− basically just threw an avocado in with some potatoes, milk, and butter, until everything was nice and smooth (about 4 medium sized Yukon gold potatoes to 1 smallish medium avocado). We didn't have to add as much butter as we normally would have for creamy mashed potatoes (though they still don't hold a candle to Joel Robuchon)
 Cajun Beer Can Chicken
1 2-3 lb whole chicken
2 tablespoons Cajun seasoning
1/2 white onion
1 12-ounce can beer (we used Coors Light)
Remove the middle rack from the oven and preheat the oven to 400º.
Open the can of beer and pour about 1/3 into the bottom of a large baking dish along with the onion.
Wash chicken under cold water and discard the giblets and the neck. Pat dry.
Rub the chicken down with the Cajun seasoning.
Place the opened beer can in the bottom of the cavity of the chicken.
Set the chicken upright in the baking dish.
Bake for about an hour or until the internal temperature of the chicken reaches 165º.