Caprese Burgers
We've made caprese sandwiches before, but we've never put all of that goodness together with a big juicy beef patty. It was a good decision. I'd been dreaming of    putting creamy burrata on top of a burger (it's sort of been one of my recent food obsessions), so I decided why not include all of the other things that go with burrata and add tomatoes, basil, and a drizzle of olive oil.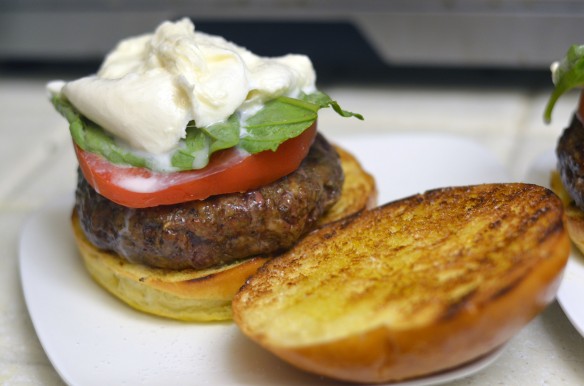 These are one of the most epic burgers we've made in quite awhile, worthy of a fancy burger restaurant! We bought pre-made hamburger patties from our local butcher shop that consists of three different kinds of ground beef combined into one delicious burger.
Caprese Burgers
serves 2
2 1/2 lb beef patties
2 brioche buns
4 ounces burrata
~10 basil leaves
2 teaspoons high quality olive oil
coarse sea salt
Grill your patties until desired doneness is reached.
Place the burger on the bottom of the bun.
Top with burrata, basil, and a teaspoon of olive oil on each. Sprinkle with salt.
Place top half of bun on top and serve. Try to get your mouth around this monstrosity of a burger.