Funfetti Biscotti
Tomorrow we start our diet. Our food consumption has been a little out of control lately, so Dustin and I have vowed for the month of August to be more about clean eating. More salads, fewer desserts. I thought about trying the Whole 30 diet where you eliminate sugar and basically eat just lean protein and all the veggies you want in a fashion similar to the Atkins diet, but then I decided I don't want this to be about deprivation, more about moderation. I want to be able to enjoy wedding cake when we go to a friend's wedding later this month, and I want to enjoy the all-you-can-eat Dodger dogs that our already purchased tickets will afford us in a couple of weeks. But I do want to really focus on being more active again, watching our portions, and providing more nutrients to our bodies. Small, but healthy changes.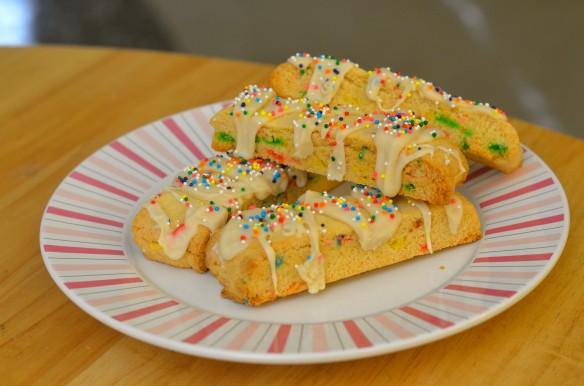 Knowing that this change was coming, I wanted one last baking excursion that I didn't attempt to healthify. I decided to use up the leftover cake mix from the cake batter cheesecake bars to make biscotti for breakfast. Amazingly enough they aren't THAT sweet. Don't get me wrong, there's a lot of sugar in there, but they aren't as sweet as you'd expect from something comprised largely of cake mix. They pair well with a skinny vanilla latte from Starbucks. We ate these in the car for breakfast while sitting in crummy LA traffic, which I definitely think made our experience better. Dustin proclaimed them to be amazing, and he said that I should package and sell them. I have to agree− they are pretty tasty!
Funfetti Biscotti
yields 8 medium sized biscotti
Biscotti
1 1/4 cups all-purpose flour
1 1/4 cup Funfetti cake mix
1 teaspoon baking powder
1/4 teaspoon salt
1/3 cup granulated sugar
1/4 cup butter, melted
1 egg
1 teaspoon vanilla extract
Preheat the oven to 350º.
Combine the flour, cake mix, baking powder, and salt in a medium sized bowl.
In a large bowl, combine the sugar and the butter with a hand mixer.
Add in the egg and the vanilla extract and mix.
Slowly add the dry mixture to the wet mixture. The mixture will be quite loose, but when you press it together with your fingers it should stay.
On a baking sheet lined with a silicone baking mat or parchment paper, form the dough into a rectangle that is about 3"x16".
Score the biscotti by gently cutting about 1/4" way through, then bake for 20 minutes.
Remove the biscotti from the oven and allow to cool for about 10 minutes.
Cut the biscotti all the way through, separate each cookie and turn it on its side. Bake for another 5 minutes.
Flip the biscotti to the other side and bake for another 5 minutes.
Allow to cool completely before icing.
Icing
1/2 cup powdered sugar
2 tablespoons heavy cream
1/2 teaspoon vanilla extract
sprinkles, for topping
Combine the powdered sugar, heavy cream, and vanilla extract in a small bowl.
Drizzle over the biscotti.
Cover with sprinkles.