Reuben Pizza
We pretty much love reuben sandwiches and are always looking for new interpretations of a reuben (see here and here). So here is our latest version...a reuben made into a pizza! It has all of the elements of your favorite reuben sandwich on top of a pizza crust with a little bit of fresh mozzarella, because let's face it, all pizza tastes better with fresh mozzarella on top!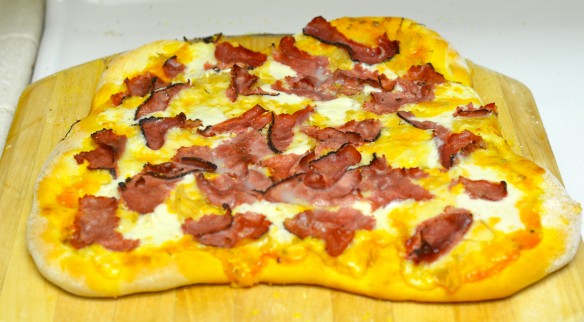 Though our homemade pizzas don't end up looking very pretty most of the time (we couldn't shape a pizza into a circle if our lives depended upon it), they always are damn tasty. It also seems we have mastered the art of sliding a pizza on and off the pizza peel onto our pizza stone (cornmeal for the win), so hopefully no more pizzas-turned-calzones for us!
Reuben Pizza
1 ball pizza dough, rolled out to 14" circle (or whatever shape your dough chooses to follow)
1/2 cup Thousand Island or Russian dressing
1/3 cup Swiss cheese, shredded
1/4 cup fresh mozzarella, torn into pieces
1/4 cup sauerkraut
1/2 lb corned beef (or pastrami), torn into pieces
cornmeal
Preheat the oven to 500º.
Place the dough on a cornmeal lined pizza peel.
Spread the dressing on top of the dough then top with Swiss cheese and mozzarella pieces.
Top with sauerkraut and meat.
Bake for 8-10 minutes until crust is golden brown.
Allow to cool slightly before cutting and serving!