Hatch Chile Chocolate Chip Cookies
We've been making some awesome savory dishes with our Hatch chiles, but the most unique use of the Hatch chiles so far has probably been Hatch chile chocolate chip cookies. Spiciness works well in cookies (seen here), so I figured Hatch chiles could be a good addition to a simple chocolate chip cookie (I haven't made simple chocolate chip cookies in a loooong time). The chile flavor isn't overwhelming (and I even increased the amounts of chiles in the original recipe by 50%), but leaves a nice lightly spicy aftertaste in your mouth. We definitely might have eaten these for breakfast a few days in a row!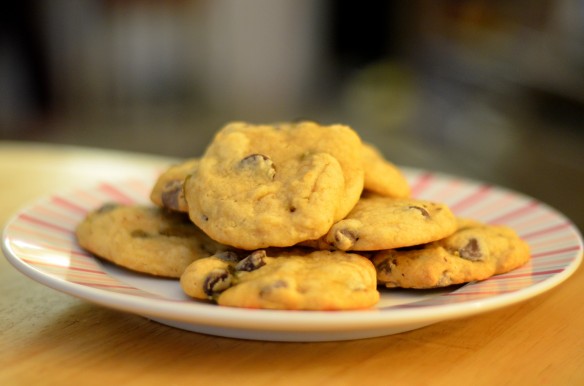 Hatch Chile Chocolate Chip Cookies
yields ~2 1/2 dozen large cookies
1 cup unsalted butter, softened
1 1/4 cup granulated sugar
3/4 cup brown sugar, packed
2 eggs
2 teaspoons vanilla extract
3 cups all-purpose flour
1 teaspoon baking powder
1/2 teaspoon salt
3 Hatch chiles, stem removed, seeded, and chopped
2 cups chocolate chips
In a large bowl, cream together the butters and sugar.
Add in the eggs, one at a time, followed by the vanilla extract.
In a medium sized bowl, sift together the flour, baking powder, and salt.
Slowly add the dry mixture to the wet mixture, mixing until just combined.
Stir in the Hatch chiles and chocolate chip cookies.
Cover and refrigerate the dough to chill for at least an hour.
Preheat the oven to 350º and line baking sheets with silicone baking mats or parchment paper.
Use a medium cookie scoop to scoop out about 2 tablespoons worth of dough and place on baking sheet.
Bake for 12-14 minutes until the edges are golden brown.
Allow to cool on the baking sheet for 5 minutes before transferring to a wire cooling rack.
Slightly adapted from Melissa's Hatch Chile Cookbook