Hatch Chile Goat Cheese Cakes
This deceptively simple title belies the amazing combination of flavors that live in this dish. We took Dustin's great appetizer from awhile back and turned it into possibly our favorite dinner from Hatch chile week(s)— Hatch Chile Goat Cheese Cakes with Caramelized Bacon and Spinach Salad.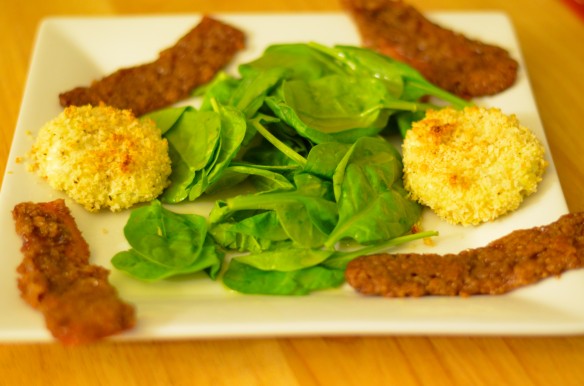 To make the delicious goat cheese cakes, I blended the goat cheese with some Hatch chiles and fresh garlic in the food processor (in a manner similar to how I made the Hatch chile cream cheese), shaped it back into a log and went about with the recipe as before. We served the goat cakes with the same caramelized bacon as before, and the spinach salad was dressed in the most amazing combination of honey balsamic vinegar and roasted garlic olive oil that we got on a recent trip to Temecula (in between Los Angeles and San Diego) for some friends' wedding and quick weekend trip. That's seriously the way to eat your spinach! I could eat this entire sweet, spicy, garlicy meal everyday without complaint!
Hatch Chile Goat Cheese Cakes
serves 2-3 as an entree
8 ounces goat cheese, softened
3 Hatch chiles, stem removed and seeded
3 cloves garlic
1 egg
1 cup Panko
salt
pepper
Combine all the ingredients together in the bowl of a food processor until combined.
Spoon the goat cheese mixture onto some wax paper and shape into a log.
Place in the freezer until the goat cheese has firmed but is not frozen.
In the meantime, preheat the oven to 400º. Line baking sheet with parchment paper or silicone baking mat.
Slice the goat cheese into 1" slices then place back in the freezer for a few more minutes.
Whisk the egg in a small bowl then season the Panko with salt and pepper on a small plate.
Dredge the goat cheese discs in the egg and thoroughly cover in Panko.
Place on baking sheet and bake for 15 minutes.