Hatch Chile Pecan Pancakes
It seems as though most of our recipes for Hatch chile week are just an update of other recipes we've made in the past, but that's ok, because the Hatch chiles definitely add their own unique flavors. Here's another Hatch-chile-for-breakfast recipe— Hatch chile pecan pancakes based off of these jalapeño pecan pancakes! Hatch chiles are the best!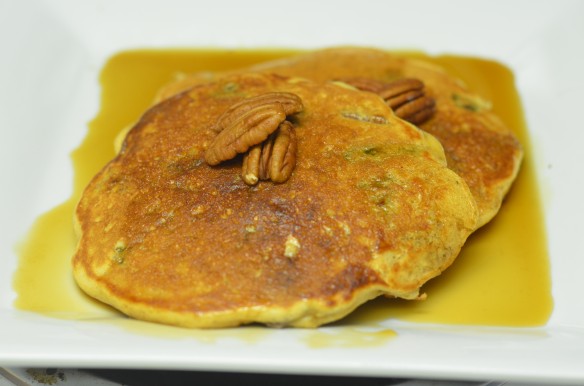 Sorry for the maple syrup flood on the plate!
Hatch Chile Pecan Pancakes
serves ~3
1 cup whole wheat pastry flour
1 tablespoon baking powder
2 teaspoons cinnamon
1/2 teaspoon salt
1 cup buttermilk
2 tablespoons brown sugar
1 large egg
1 teaspoon vanilla extract
2 Hatch chiles, seeded and sliced
1/4 cup pecans, toasted and chopped
1/2 cup pure maple syrup
In a small bowl, combine flour, baking powder, cinnamon, and salt.
In a large bowl, combine buttermilk, brown sugar, egg, and vanilla.
Slowly add the dry mixture to the wet mixture, and mix until combined. Do not overmix.
Fold in the Hatch chiles and pecans (reserving a few for garnish).
Allow the batter to rest for 5 minutes.
While the batter is resting, heat a non-stick griddle to medium high.
Ladle batter onto griddle and cook for several minutes until you see bubbles. Use a spatula to flip the pancakes and cook for several more minutes until both sides are golden brown.
Serve with maple syrup.