Hatch Chile Sauce Pizza with Grilled Steak and Caramelized Onions
Replace your standard tomato sauce with pureed roasted Hatch chiles, and you get a slightly spicy and unique base for a pizza. We topped our pizza with pepper Jack cheese to give it a little extra kick, lots of fresh mozzarella (because fresh mozzarella makes all pizzas taste better), caramelized onions to add a hint of sweet to cut the spice, and grilled steak. It isn't the prettiest of pizzas in shape since we had some problems with sticky dough, but looks don't matter when it tastes this good. Dustin says it's one his favorite homemade pizzas yet!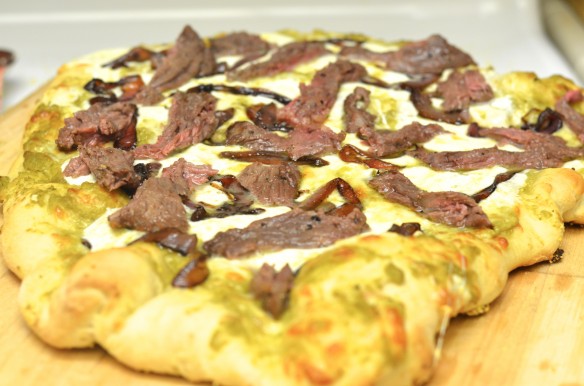 Hatch Chile Sauce Pizza with Grilled Steak
serves ~3
1 red onion, sliced
4 tablespoons olive oil, divided
1 tablespoon balsamic vinegar
1 batch pizza dough, rolled out
5 Hatch chiles, roasted
2 cloves garlic
1 cup pepper Jack cheese, shredded
4 ounces fresh mozzarella, sliced
salt
pepper
2/3 lb flank steak, grilled
cornmeal
Preheat the oven with a baking stone to 500° and heat up the grill.
Cook the red onions over medium low heat in 1 tablespoon of olive oil and the balsamic vinegar while you make the rest of the pizza until the onions are soft and caramelized.
Puree the Hatch chiles along with the garlic and 2 tablespoons of olive oil.
Spread the chile paste on the rolled out dough.
Sprinkle with pepper Jack cheese and place down mozzarella slices.
Before you put the pizza in the oven, sprinkle the steak with salt and pepper then grill for 3-4 minutes per side.
While the steak is grilling, transfer the pizza to a pizza peel dusted with cornmeal and then to baking stone in the oven.
Bake the pizza for 8 minutes until edges are crisp.
Allow to the steak to rest before slicing.
Top pizza with sliced steak and caramelized onions then slice and enjoy!