Monster Cookies
I had no intention of making actual monster cookies, but when I was asked to bring desserts for a small event at school and decided to show up with rosemary chocolate chip cookies, I figured I'd better also show up with a more mainstream cookie to please the slightly less adventurous eater. I had all the ingredients I needed to make actual monster cookies, since I was planning on making monster cookie cookie dough ice cream later in the week, so these monster cookies were made! The rosemary chocolate chip cookies were a bit of a surprise to people, but were an overall success, but so were the monster cookies, even if they weren't quite as unique or exotic!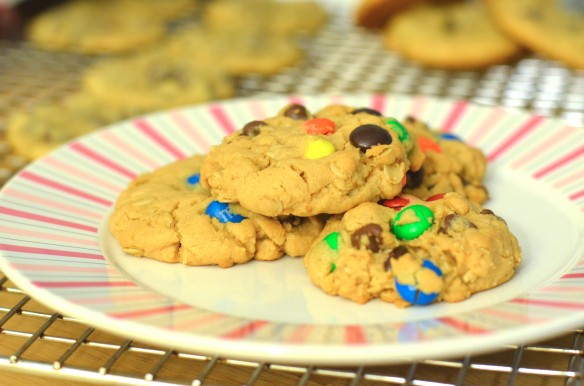 Monster Cookies
yields ~1 1/2 dozen
1/2 cup unsalted butter, softened
1/4 cup granulated sugar
1/2 cup light brown sugar
1/2 cup creamy peanut butter
2 large eggs
1 teaspoon vanilla extract
1 1/4 cups all-purpose flour
1/2 teaspoon baking soda
1/2 teaspoon salt
1 teaspoon cornstarch
2/3 cup old fashioned oats
1/2 cup M&Ms
3/4 cup semi-sweet chocolate chips
In a large bowl, cream together the butter, sugars, and peanut butter with a hand mixer.
Add in the eggs one at a time and mix, followed by the vanilla extract.
In a medium bowl, combine the flour, baking soda, salt, and cornstarch.
Slowly add the dry mixture to the wet mixture, mixing until just combined.
Fold in the oats, M&Ms and chocolate chips.
Cover and refrigerate the dough for at least 30 minutes.
Preheat the oven to 350°. Line baking sheet with silicone baking mats or parchment paper.
Using a cookie scoop, scoop about 2 tablespoons worth of dough out and flatten slightly on the baking sheet.
Bake for 13-14 minutes until edges are golden brown.
Allow to cool on the pan for 5 minutes before transferring to a wire cooling rack.