Rosemary Chocolate Chip Cookies
Adding rosemary to your chocolate chip cookies will change your life. At least I think so, as well as a few other individuals that sampled this creation− they were a big hit with my peers and Dustin's coworkers. Lately I've been obsessed with infusing herbs (basil and mint) into ice cream, and I also remembered thoroughly enjoying adding mint to my chocolate chip cookies a few summers ago, which gave them a nice, lightly herbaceous flavor. Branching out a little bit, I decided to add rosemary, which is a little bit more exotic than the other herbs I've previously experimented with. These cookies are classic and soft with a lovely hint of rosemary.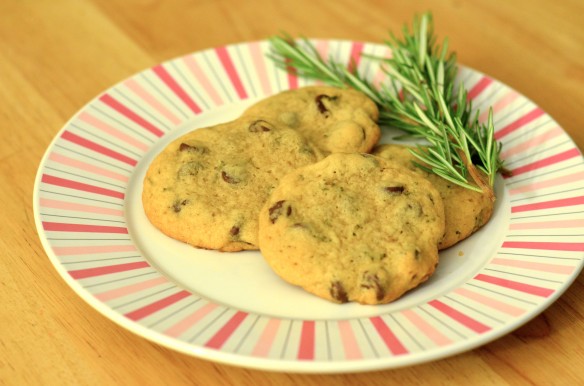 I know I promised we were going on a diet, but these cookies were made well before that. We're just a little behind with our posting. It's pretty torturous to look back now at all the desserts I made when I know they are off limits now!
Try adding rosemary to your cookies! You seriously don't know what you are missing!
Rosemary Chocolate Chip Cookies
yields ~1 1/2 dozen
1/2 cup butter, softened
1/4 cup granulated sugar
1/2 cup brown sugar, packed
2 eggs
1 1/2 teaspoons vanilla extract
1 1/2 cups all-purpose flour
1/2 teaspoon salt
1/2 teaspoon baking soda
1 teaspoon cornstarch
3/4 cup chocolate chip
3 tablespoons fresh rosemary, finely chopped
In a large bowl, cream together the butter and the sugars until smooth.
Add in the eggs, one at a time, followed by the vanilla extract and mix.
In a medium bowl, sift together the flour, salt, baking soda, and cornstarch.
Slowly add the dry mixture to the wet mixture and mix until just combined.
Fold in the chocolate chips and the rosemary.
Cover the dough and chill for about an hour.
Preheat the oven to 350°. Line two baking sheets with parchment paper or silicone baking mat.
Scoop about 2 tablespoons of dough out and press down slightly.
Bake for 11-13 minutes until the edges are lightly browned.
Allow to cool on pan for 10 minutes before transferring to a wire cooling rack.