Fresh Mint Ice Cream with Brownie Chunks
There's a gourmet ice cream shop near us with the most amazing fresh mint chip ice cream. We've tried several of their other flavors, which are also delicious, but that fresh mint chip ice cream takes the cake. They also serve freshly made chocolate waffle cones. A couple of scoops of their fresh mint chip ice cream in a chocolate cone is the perfect treat on a hot day. As much as I enjoy "normal" mint ice cream, those artificial flavors don't hold a candle to fresh mint ice cream.
I was inspired to make my own mint infused ice cream, and instead of mixing in basic chocolate chips, I decided to make the popular thin mint brownies from awhile back (a rare recipe remake and they tasted just as delicious as the first time), chop a few up and add them a la Ben and Jerry's Brownie Batter ice cream. The ice cream only calls for about 5 brownies chopped up, so the remaining brownies went to work with Dustin the next day. You can obviously use any brownie you'd like in here, but I thought the thin mint brownies would add an extra special layer of flavor to the overall dessert.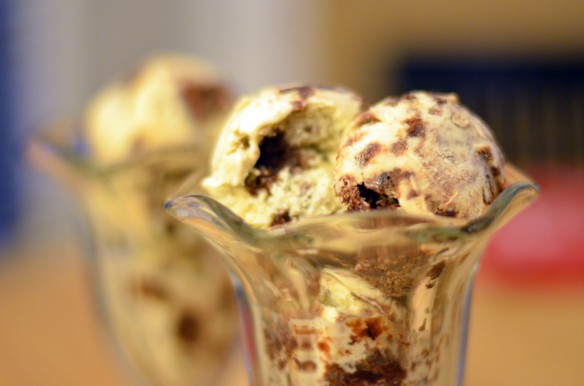 Homemade ice cream always requires some planning courtesy of the multiple steps needed, and infusing the cream with fresh herbs (also done here with a strawberry basil ice cream) is yet another step, but totally worth all of the trouble!
Fresh Mint Ice Cream with Brownie Chunks
yields ~1 quart
1 cup whole milk
2 cups heavy cream, divided
3/4 cup granulated sugar
1/4 teaspoon salt
2 cups mint leaves, packed
5 large egg yolks
5 2"x2" brownies, chopped into pieces
In a large saucepan over medium-high heat, combine the milk, heavy cream, sugar, and salt.
Once the mixture is hot, but not quite boiling, remove the saucepan from the heat, add in the mint leaves, and cover with a pan.
Let the leaves steep for about an hour and a half.
Strain the mint-infused milk and add it back to the saucepan. Reheat but do not let boil.
In a large bowl, add the remaining cream and set aside.
In a medium bowl, whisk together the egg yolks.
Slowly add about half of the warm mixture to the egg yolks, stirring constantly as to ensure the eggs do not curdle.
Add the egg and cream mixture back to the saucepan and cook until it thickens.
Strain the custard and add to the cold cream in the bowl. Stir vigorously.
Allow to come to room temperature, cover, then chill in the refrigerator for at least 4 hours.
Churn in an ice cream maker according to manufacturer's instructions.
During the last 5 minutes of churning add in the brownie chunks (works well if they are already frozen).
Transfer to a freezer safe container and freeze until consistency is reached.
slightly adapted from David Lebovitz