Soft Scrambled Egg Brioche Breakfast Sandwiches
A few weeks ago we headed into Grand Central Market for breakfast at eggslut. Despite getting there on the early side, we still had quite a wait in front of us, but once we finally got our food, we knew why we had to wait− because we were eating some of the best breakfast sandwiches we'd ever tasted.
We ordered a sausage egg and cheese sandwich (house made turkey sausage, over medium egg, cheddar cheese, and honey mustard aioli on a soft portuguese bun) and the Fairfax (soft scrambled eggs with chives, cheddar, caramelized onions, and sriacha mayo) before heading off to explore Olvera Street, also known as the birthplace of Los Angeles.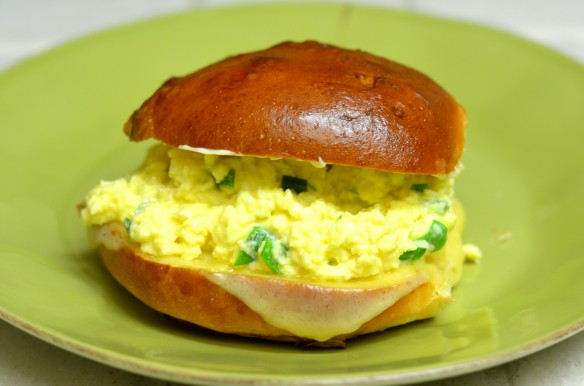 Well after we had some delicious homemade brioche buns leftover from our burgers, we decided to make our own epic breakfast sandwiches inspired by eggslut. Dustin soft scrambled some eggs (he's kind of an egg cooking expert now) with a little bit of cream cheese and chives, and then we melted Havarti on our brioche buns and slathered a bit of spicy mayo on top for our gourmet breakfast sandwiches. Who needs to go out for brunch when you can have these ready in less than 10 minutes!
Soft Scrambled Egg Brioche Breakfast Sandwiches
serves 2
2 brioche buns
2 slices Havarti cheese
2 tablespoons mayonnaise + a few dashes of hot sauce (we used Tapatio) mixed together
5 eggs
1 tablespoon cream cheese, softened
1 tablespoon milk
1/4 cup chives, chopped
salt, to taste
pepper, to taste
Split the buns in half, place a slice of cheese on top then toast and set aside. Spread spicy mayonnaise on one side.
In a medium-sized bowl, whisk together the eggs, cream cheese, and the milk until smooth.
Pour into a pan over medium heat and cook, agitating frequently, until barely cooked and soft.
Place eggs on one side of the bun.
Sprinkle with chives and season with salt and pepper.