Blood Orange Olive Oil Cookies
It's been a really long time since we've blogged, but life has been crazy around here while we moved to a new townhouse. For over a week now we've been packing, moving boxes, and unpacking. Cooking, taking pictures, or writing about those things were pretty low on the list of thing we wanted to do after busy days, especially because school and work have become pretty hectic lately. It's been all takeout and Trader Joe's food for us. But hopefully we'll be back to blogging a little more regularly.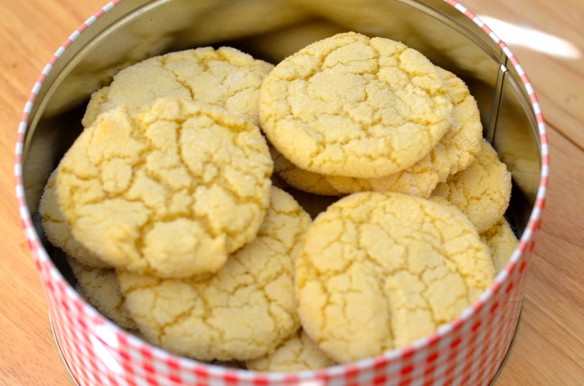 But here are some delicious cookies I made a couple of weeks before the move, made with blood orange olive oil that we bought while visiting Temecula in August. The blood orange flavor in here is spot on with nothing except the olive oil. These are definitely my most favorite cookie from this year, which is saying something considering my love of cookies. If you are looking for a unique cookie recipe to wow someone with this is it!
Blood Orange Olive Oil Cookies
yields ~2 1/2 dozen cookies
2 1/4 cups all-purpose flour
1/2 teaspoon baking soda
1/2 teaspoon baking powder
1/2 teaspoon salt
1 1/4 cups granulated sugar, plus more for rolling
1/3 cup blood orange olive oil
2 large eggs
1/2 teaspoon vanilla extract
Preheat the oven to 350°. Line baking sheets with silicone baking mats or parchment paper.
In a medium sized bowl, combine the flour, baking soda, baking powder, and salt.
In a large bowl, combine the sugar and the olive oil and stir with a spatula.
Add in the eggs, one at a time, followed by the vanilla, and mix well.
Slowly add the dry mixture to the wet mixture. It will be somewhat oily.
Fill a small bowl with ~1/3 cup of sugar
Scoop out about 2 tablespoons worth of the dough, roll into a ball, dip into the sugar, then set on the baking sheet and press lightly down. Continue until all of the dough is gone.
Bake for 13-14 minutes until the edges are golden.
Allow to cool on the baking sheet for 5 minutes before transferring to a wire cooling rack.
recipe from Love and Olive Oil and CVRanches