Classic German Chocolate Cake
While not as impressive (or quite as much work) as the awesome Momofuku birthday cake, I wanted to have a cake in the fridge to pull out when Dustin's parents arrived as a belated birthday present. My mom sent me some bake even strips awhile back that I had completely forgotten about, and now I finally had the chance to use them. I will never bake a cake without them again. The cakes baked perfectly even and flat, no having to saw anything off of the top and no collapsing.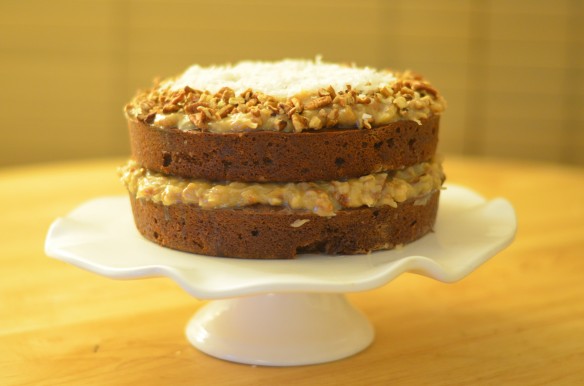 I've never been perfectly happy with any chocolate cake I've ever made, but this one was still good. The filling is the real star of the show here− incredibly rich! We ate quite a bit on its own as we made it!
Classic German Chocolate Cake
yields 1 2 layer 8-inch cake
Cake
4 ounces semi-sweet chocolate, chopped
6 tablespoons water
2 cups all-purpose flour
1 teaspoon baking powder
1 teaspoon baking soda
1/2 teaspoon salt
1 cup unsalted butter, softened
1 + 1/4 cup granulated sugar, divided
4 eggs, yolks and whites separated
1 teaspoon vanilla extract
1 cup buttermilk, room temperature
Preheat the oven to 350º. Grease and flour two round 8" cake pans.
Melt the chocolate in a double boiler or the microwave along with the water. Stir until smooth. Allow to come to room temperature.
In a large bowl, sift together the flour, baking powder, baking soda, and salt.
In the bowl of a stand mixer, combine the butter and 1 cup of sugar and beat on high until light and fluffy (about 5 minutes).
Reduce the speed of the mixer to medium and add in the melted chocolate, vanilla extract, and egg yolks, one at a time, beating until smooth.
Alternate adding the buttermilk and the flour mixture to the chocolate mixture and mix until all ingredients are just combined.
In a medium sized bowl, whisk together the egg whites and 1/4 cup of sugar using a hand mixer until stiff peaks begin to form. Gently fold the egg whites into the cake batter.
Divide the batter evenly between the two pans and bake for 45 minutes, or until a toothpick inserted into the center comes out cleanly. Do not remove the cakes from the pan until they are completely cooled.
Syrup
2/3 cup water
1/2 cup granulated sugar
2 tablespoons dark rum
Heat the water and granulated sugar in a small saucepan, stirring until the sugar is dissolved.
Remove from heat and stir in the rum.
Cake and syrup slightly adapted from David Lebovitz
Coconut-Pecan Filling
4 egg yolks
1 (12 ounce) can evaporated milk
1 1/2 cups granulated sugar
3/4 cup unsalted butter, cut into 1" pieces
2 teaspoons vanilla extract
7 ounces sweetened coconut + more for decorating
1 1/2 cups pecans, chopped + more for decorating
Combine the egg yolks and evaporated milk in a small saucepan, whisking until smooth.
Add in the sugar and the butter, cooking over medium heat for about 12 minutes until thick and golden brown.
Remove from heat and stir in the vanilla, coconut, and pecans.
Allow to cool until spreadable consistency is reached.
Slightly adapted from Kraft Recipes
Assembly
Once the cake layers are cooled, place one on top of a cake stand.
Brush top and sides with rum syrup.
Spread some of the filling on top.
Repeat steps 2 and 3 with the next layer of cake.
Line the edges of the top with additional pecans and sprinkle coconut in the center.