Monster Cookie Dough Ice Cream
Dustin may not remember complaining that he didn't get to try any of my cookie dough ice cream last summer when he was out of town, but he did. So to make up for this "injustice," I made a batch of very similar ice cream (mentioned previously here), except instead of regular chocolate chip cookie dough, I made monster cookie dough ice cream to add in. Monster cookies are just cookies that take the best parts of four major cookie types (chocolate chip, oatmeal, peanut butter, and M&M) and combines them all into one monstrous cookie!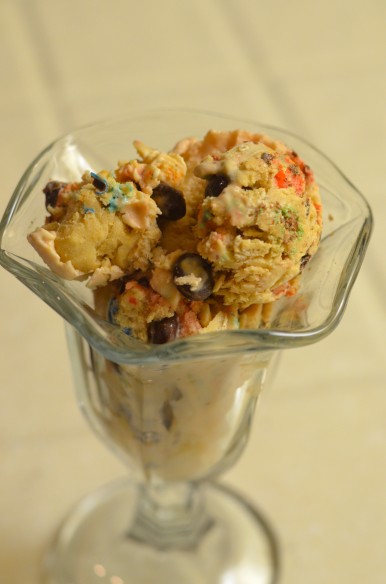 Dustin thinks this ice cream is far superior to regular ol' cookie dough ice cream. Something about the peanut butter being added, he says. I was just happy to have an excuse to eat "raw" cookie dough!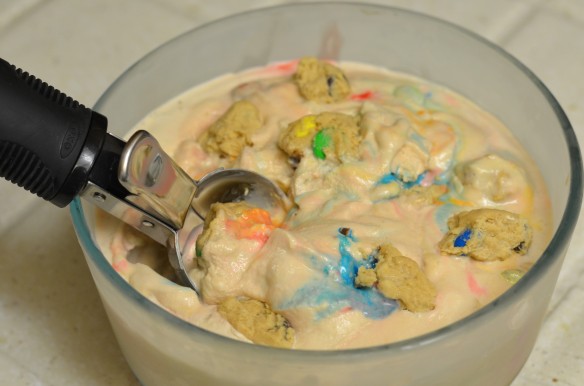 Apologies if it is no longer ice cream weather wherever you may be located, but it's hitting triple digits here in SoCal! I wish I still had some of this in the freezer right about now!
Monster Cookie Dough Ice Cream
yields 1 1/2 quarts
Ice Cream
2 cups heavy cream, divided
1 cup whole milk
1/4 cup granulated sugar
1/2 cup light brown sugar, packed
pinch of salt
4 egg yolks
1 teaspoon vanilla extract
1/2 cup unsweetened chocolate chips
1/2 cup M&Ms
1 batch monster cookie dough (recipe below)
Combine 1 cup heavy cream, milk, sugars, and salt in a medium sized saucepan, stirring frequently until the sugars have dissolved. Mixture should not boil.
In a small bowl, whisk together the egg yolks. Slowly whisk in about 1/4 cup worth of the cream mixture, one tablespoon at a time to temper the eggs.
Add the egg mixture to the saucepan with the cream and milk mixture.
Return saucepan to medium heat and cook for approximately 5 minutes or until the mixture coats the back of a spoon.
Pour through sieve into a bowl with the remaining cup of cream.
Add in the vanilla extract. Mix well.
Cover with plastic wrap and refrigerate overnight to cool thoroughly.
Churn the cream mixture in an ice cream maker according to manufacturer's instructions. Add in chocolate chips, M&Ms, and cookie dough during the last 5 minutes of churning.
Transfer to a freezer safe container and freeze for at least 2 hours or until desired consistency is reached.
Monster Cookie Dough
1/2 cup unsalted butter, room temperature
1/4 cup granulated sugar
1/2 cup light brown sugar, packed
1/4 cup peanut butter
1/4 teaspoon salt
1/2 teaspoon vanilla extract
2 tablespoons milk
3/4 cup flour
1/2 cup old-fashioned oats
1/2 cup mini semi-sweet chocolate chips
1/2 cup M&Ms (minis would be best, but I used regular sized ones)
Cream together the butter, sugars, and peanut butter.
Add in the salt, vanilla, and milk. Mix well.
Add in the flour and oats then mix.
Fold in the mini chocolate chips and M&Ms.
Refrigerate the dough for 30 minutes or until it is easy to handle.
Roll the dough into marble sized balls, place on a parchment paper lined baking sheet, and freeze until ready to use.