Roasted Banana Pudding Ice Cream
I absolutely love banana pudding, and I really wanted to combine that dessert with ice cream. Turning banana pudding into a frozen dessert with crunchy Nilla wafers quite possibly makes it even more delicious than the original dessert. This picture may not look like much, but I promise you, this is anything but basic and simple.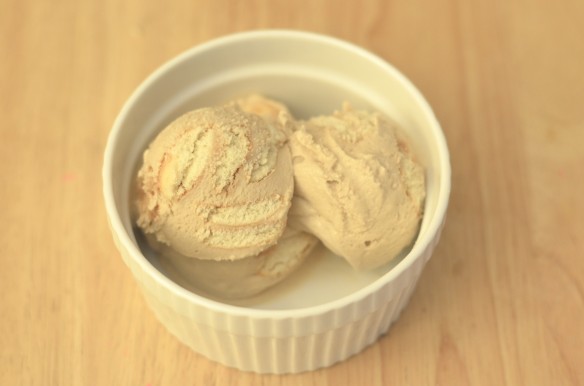 Both Dustin and I thought that this is some of the richest and most decadent ice cream we've ever eaten. It's almost more like a custard. The roasted bananas add so much depth of flavor, and of course, the cinnamon and rum are perfect complements. Definitely high on my list of favorite ice creams!
Roasted Banana Pudding Ice Cream
3 ripe medium-sized bananas
1/3 cup light brown sugar
2 teaspoons ground cinnamon
1 tbsp butter, cut into small pieces
3/4 cup whole milk
3/4 cup heavy cream
1/2 tsp vanilla extract
1 shot dark spiced rum
1/4 teaspoon salt
3/4 cup mini Nilla wafers
Preheat the oven to 400º.
Slice the bananas into 1/2" slices and coat with brown sugar and butter in a large baking dish.
Bake for 40 minutes.
Add the bananas, brown sugar syrup, milk, heavy cream, vanilla extract, rum, and salt into a blender and puree until smooth.
Allow to come to room temperate, transfer the mixture to a bowl, cover with plastic, and refrigerate over night.
Churn in an ice cream maker according to manufacturer's instructions.
During the last 5 minutes of churning, add in the Nilla wafers.
Transfer to a freezer safe container and freeze until desired consistency is reached.
Adapted from The Perfect Scoop by David Lebovitz