Candy Bar Cookies
We've been incredibly terrible when it comes to blogging lately, but we've possibly been even worse when it comes to actually cooking. If we don't make it to the grocery store over the weekend, then that's just not happening for the week, and we're relying on takeout. Between school/work and a trip back to Seattle, we've definitely been off our game. That has been changing this week though, as we actually cooked four out of five nights (recipes to share soon)!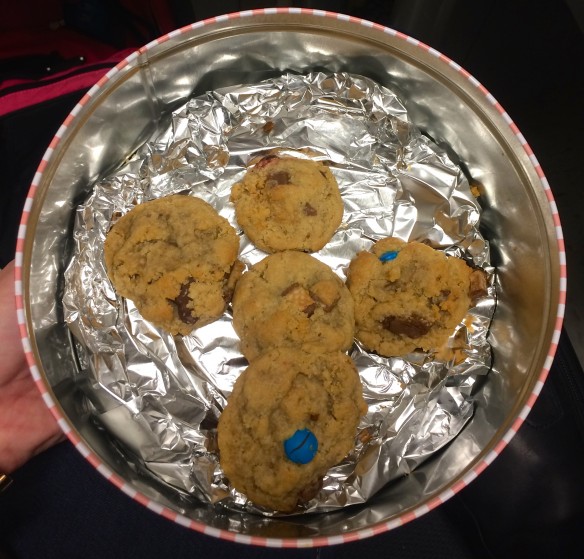 I've only baked once in my new kitchen since we moved into our new place in early September (these yummy cookies), so it was good to get back into the kitchen. These cookies are perfect for leftover Halloween candy, replacing chocolate chips in a fairly typical chocolate chip cookie recipe (well if you consider browned butter to be part of a typical recipe like I do) with candy bars. All kinds...Snickers, Twix, Reese's peanut butter cups, M&M's and more...each cookie is unique, so you have to eat more than one! I brought half to a pre-Halloween decorating party and sent the rest to work with Dustin, and they went over quite well.
And I apologize for phone pictures...we are majorly failing at blogging!
Candy Bar Cookies
yields ~3 1/2 dozen
1 cup unsalted butter
3/4 cup granulated sugar
1 1/2 cup brown sugar
2 large eggs
2 teaspoons vanilla extract
2 1/2 cups all-purpose flour
1 1/2 teaspoons baking soda
3/4 salt
2 cups candy bars, chopped
In a medium saucepan, brown the butter over medium heat until there are small flecks and the butter is emitting a nice, nutty aroma.
Allow the brown butter to cool then cover with plastic wrap and refrigerate until solidified but soft.
Cream together the brown butter and sugars in large bowl.
Add the eggs, one at a time, mixing after each addition. Add in the vanilla extract.
In a medium bowl, sift together the flour, baking soda, and salt.
Slowly add the dry mixture to the wet mixture, mixing until just combined.
Fold in the chopped candy bars.
Cover the dough and refrigerate for at least 2 hours or overnight.
Preheat the oven to 350º. Line baking sheets with baking sheets with silicone baking mats or parchment paper.
Using a medium cookie scoop, scoop out the dough and place on baking sheet.
Bake for 12-13 minutes until edges are browned.
Allow to cool on baking sheet for 5 minutes then transfer to a wire rack to cool.