Buffalo Chicken Noodle Soup
Let's face it. It will never be really be soup weather where I live, so I have to get my fill of warm, comforting soups when I'm wearing T-shirts and pretending it's cold. I've previously made a more gourmet version of buffalo chicken soup with blue cheese biscuits and all, but I wanted a more everyday version, so I combined the idea behind that soup with chicken noodle soup. I've never made plain chicken noodle soup (though I imagine now I should, given that I have a giant partially used bag of egg noodles in my cabinet), but this version is crazy awesome and perfect for football season!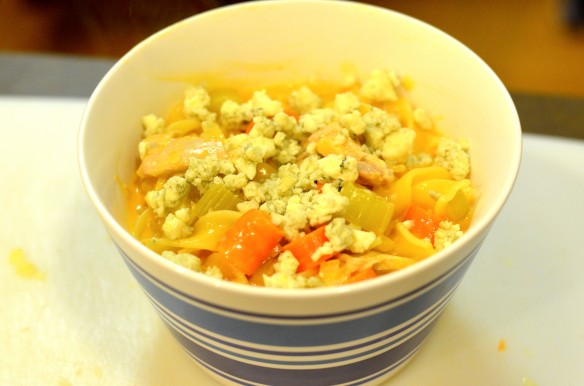 Buffalo Chicken Noodle Soup
serves 3 generously
1 tablespoon olive oil
1 cup carrots, chopped
1 cup celery, chopped
1 cup leeks, chopped
3 cloves garlic, chopped
4 cups chicken stock
1/3 cup buffalo sauce
1 1/2 cups egg noodles
1/3 cup half-and-half
1/2 cup blue cheese crumbles, divided
3/4 lb cooked chicken, shredded
In a stock pot, heat olive oil over medium-high heat. Cook the carrots, celery, and leeks until soft.
Add in the garlic and cook for a few more minutes.
Pour in the chicken stock and buffalo sauce.
Bring mixture to a boil.
Cook egg noodles in mixture.
Stir in half-and-half, 1/4 cup of blue cheese crumbles, and chicken.
Top with more blue cheese and serve!