Pumpkin Ale Cream Cheese Swirl Bread
Seriously, where has time gone? We are already well into November, and I've yet to start baking with pumpkin! I'm so far behind on all of my baking todo lists. Similar to the pumpkin cider bread I made a few years back, this is a sweet, slightly yeasty pumpkin bread with a delicious cream cheese layer in the middle.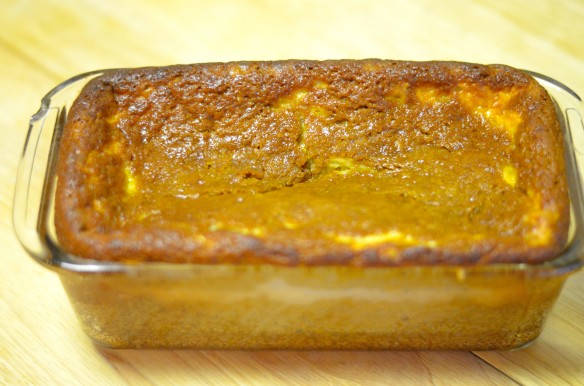 I'm not exactly sure why the bread sank in the middle, but it was delicious nonetheless. We bought Rogue pumpkin patch ale for use in this recipe, but any pumpkin ale will do!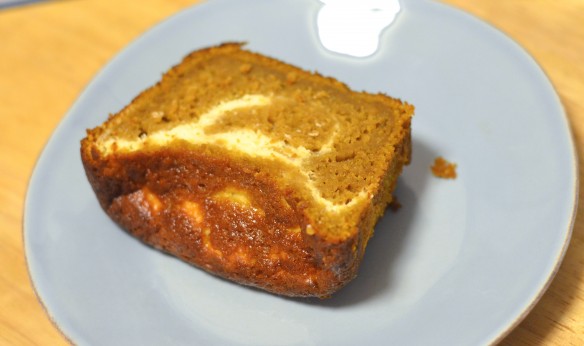 Pumpkin Ale Cream Cheese Swirl Bread
yields 1 9" loaf
Bread
1 15-ounce can pumpkin puree
1 3/4 cups granulated sugar, divided
12-ounces pumpkin ale
1/3 cup canola oil
2 large eggs
1 teaspoon vanilla extract
1 3/4 cups all-purpose flour
2 tablespoons pumpkin pie spice
1 teaspoon salt
1 teaspoon baking soda
1/2 teaspoon baking powder
Preheat the oven to 350°. Grease a 9" loaf pan.
Combine the pumpkin puree, 3/4 cup sugar, and pumpkin ale in a medium sized bowl.
Beat together the oil and remaining sugar in a large bowl.
Add in the eggs one at a time followed by the vanilla until well mixed.
In a medium bowl, combine the flour, pumpkin pie spice, salt, baking soda and powder.
Slowly add some of the pumpkin ale mixture to the oil/sugar/egg mixture, followed by some of the dry mixture, alternative until just incorporated.
Pour pumpkin mixture into loaf pan, filling about 2/3 full. Layer with cream cheese mixture (see below), then cover with more pumpkin mixture.
Bake for 55-60 minutes, or until a toothpick inserted into the center comes out cleanly.
Cream Cheese Swirl
6 ounces cream cheese, softened
1/2 cup granulated sugar
1 egg
1 teaspoon vanilla extract
In a medium sized bowl, cream together the cream cheese, sugar, egg, and vanilla.
adapted from Samuel Adams Harvest Pumpkin Ale Bread