Leftover Turkey Noodle Soup
Another of my leftover turkey recipes from last year. It's a super simple soup recipe that you can make even on the busiest of nights. Dustin actually made this for me and had it ready and waiting for me when I arrived home from a long day at school. I never got around to making chicken noodle soup like I wanted, this similar turkey version was a great substitute.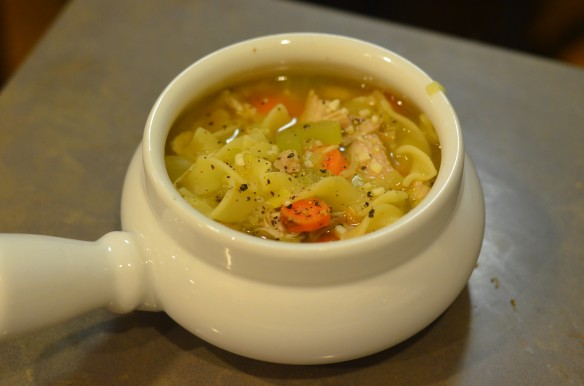 Turkey Noodle Soup
1 tablespoon olive oil
1 cup carrots, chopped
1 cup celery, chopped
1 cup leeks, chopped
3 cloves garlic, chopped
4 cups chicken stock
1 1/2 cups egg noodles
3/4 lb cooked turkey, shredded
In a stock pot, heat olive oil over medium-high heat. Cook the carrots, celery, and leeks until soft.
Add in the garlic and cook for a few more minutes.
Pour in the chicken stock.
Bring mixture to a boil.
Cook egg noodles in mixture.
Add in the turkey.
adapted from Buffalo Chicken Noodle Soup