Sausage and Pepper Tortellini Soup
I bought a family-sized package of cheese tortellini when we made this spinach and artichoke tortellini soup and only used half off it. While the spinach and artichoke version was light and refreshing, this meaty, tomato and pepper version was much heartier and fall/winter appropriate. Originally I envisioned large chunks of sausage or chorizo, but I was unclear in my communication of this idea to Dustin and he removed the sausage from its casing. So we abandoned that idea and cooked the ground sausage up on the stove. It still turned out to be another winner though!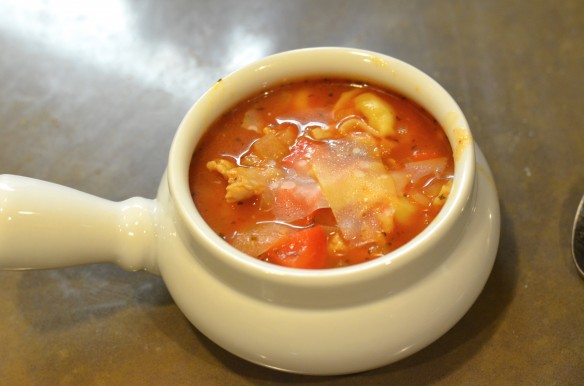 Sausage and Pepper Tortellini Soup
3/4 lb ground sausage
1 tablespoon olive oil
1 yellow onion, chopped
1 red bell pepper, chopped
4 cloves garlic, finely chopped
4 cups beef broth
1 cup tomato sauce
2 cups cheese tortellini
2 teaspoons dried oregano
2 teaspoon dried basil
salt, to taste
pepper, to taste
shaved parmesan, for topping
Cook the ground sausage in a skillet over medium-high heat for about 12 minutes, stirring frequently, then set aside.
While the sausage is cooking,  heat the olive oil in a large, deep pot over medium heat.
Add the onion, bell pepper, and garlic and cook until soft, about 5-7 minutes.
Add the beef broth, tomato sauce, tortellini, and herbs. Cook until tortellini is al dente (about 10 minutes for us).
Season with salt and pepper and top with freshly shaved parmesan!