Edamame Soup
This soup is the perfect use for the leftover créme fraîche from the mussels in cider. I'm a big fan of edamame, but it is typically one of those things I only eat if it comes gratis with the sushi we've ordered (as much as I enjoy edamame, I don't think I could ever convince Dustin to order it in favor of fresh fish). Incorporating edamame into a silky, creamy soup was a way to get more of this flavor without sacrificing any sushi. This recipe comes from the Skinny Taste Cookbook, so in addition to being delicious, it's also healthy (there's a bunch of spinach in there you don't even taste)!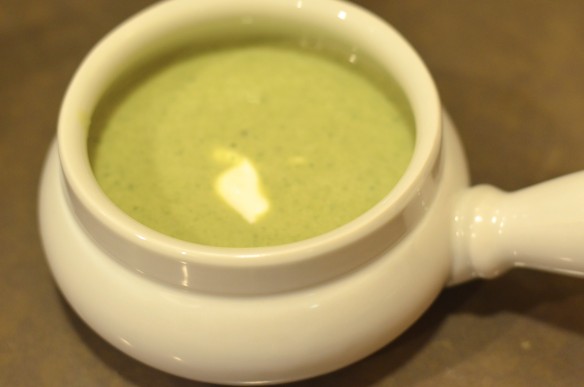 Sorry for the blurry photo!
Edamame Soup
1/4 cup créme fraîch, for topping (sour cream can be substituted)
1 tablespoon sliced green onions, for topping
freshly cracked black pepper, to taste
3 cups baby spinach
12 ounces fresh or frozen shelled edamame
1 tablespoon reduced-sodium soy sauce
4 cups low-sodium chicken broth or vegetable broth
2 garlic cloves, chopped
1/4 cup chopped shallots
1 teaspoon sesame oil
Heat sesame oil in a medium-sized saucepan over medium heat.
Cook shallots and garlic for 2 minutes, gently stirring.
Add in chicken broth, soy sauce, and edamame. Bring to a boil.
Cover, reduce heat to medium-low, and simmer until the for 15-20 minutes until edamame are tender.
Add in spinach and cook for another minute.
Using a handheld blender, carefully blend the soup until smooth.
Season with black pepper.
Top with scallions and créme fraîche.