Strawberry Basil Lemonade
It's been an incredibly long time since I've posted anything. Life just got busy. Currently I have 30 drafts of recipes that we made before this slump occurred, so it's not for a lack of having something to write about or creativity, but writing for "fun" was really the last thing on my mind. Between reading my student's papers, writing my own term paper for class, and finishing up a manuscript of my research to submit for publication, I couldn't even fathom writing a blog post. All I've wanted to do is snuggle with my puppies on the couch with my TV in my free time. I still don't feel incredibly motivated and am mostly exhausted from this year. I honestly don't know if I'll continue with this blog anymore as a result (because it shouldn't feel like a chore, right?). But I felt I should give it one more attempt especially now that summer is here and I have a bit more free time to see if I can once again find an enjoyable rhythm.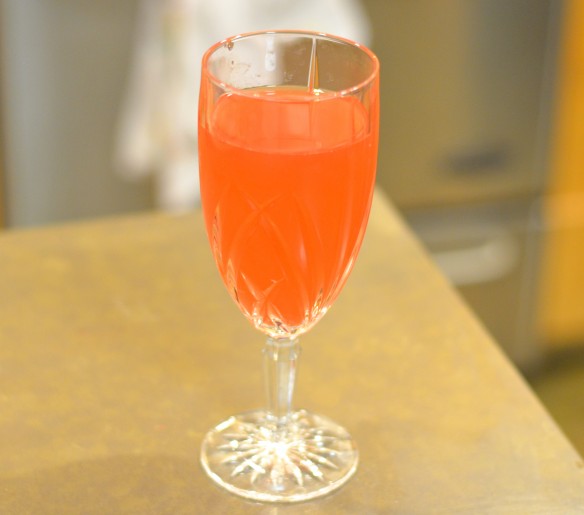 To ease my way back into things, I made an easy strawberry basil lemonade— a perfect treat for a hot summer afternoon.
I made strawberry lemonade a long time ago where I blended strawberries with simple syrup and lemon juice, but this time I decided to use a different approach to infusing strawberry flavor into my lemonade. I instead steeped the strawberries and the basil in the simple syrup. As a result I think the texture is a little smoother, but the fresh basil is still the star.
Strawberry Basil Lemonade
1 cup granulated sugar
1 pint strawberries, hulled and sliced
1/2 cup fresh basil leaves
1 cup freshly squeezed lemon juice
5 cups water
In a medium sized sauce pan, bring 1/2 cup of water to a boil, add in sugar, and stir until dissolved.
Add in the strawberries and basil, turn down the heat to medium and cover with lid. Allow to simmer for 10 minutes.
Remove from heat, but keep the pot covered and allow to cool to room temperature. Strain the strawberry pieces and basil from the simple syrup.
Combine the strawberry-basil simple syrup, lemon juice, and water in a pitcher.
Serve over ice and enjoy!