Blackberry Thyme Crostatas
There is a Los Angeles chain that we might have mentioned before called Lemonade that serves fresh vegetable-focused dishes, and you guessed it, lemonade. But not just plain lemonades grace the menu. Blood orange, pineapple coriander, and watermelon rosemary are a few of the flavors to be had. Before we moved last year, Lemonade was on my walk home from my barre class. So at least 2-3 times a week last summer, I'd stop by for a healthy lunch that was immediately cancelled out by all of the sugar from the lemonade. My favorite flavor combination was blackberry thyme, and anytime I saw it, I would order it. I love how the two flavors complement each other, and I made a mental note to make a pie with both blackberries and thyme.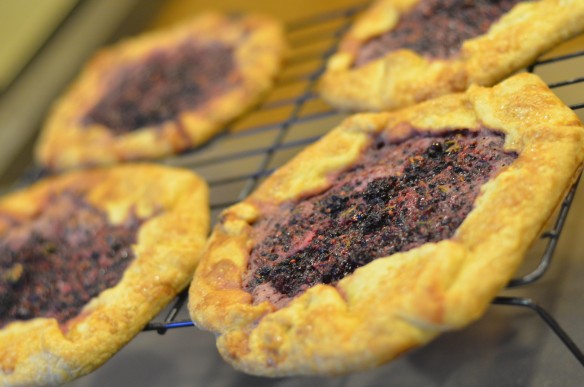 After a tad bit of research online, I actually discovered a recipe for blackberry thyme crostatas was in my Tom Douglas cookbook (the same cookbook featuring this delicious coconut cream pie). We ate these crostatas as our July 4th dessert, but also as our July 5th and 6th breakfasts...with honey lavender ice cream (recipe coming soon) each and every time. Don't judge. I think this is the first time in my life that I've ever eaten ice cream for breakfast. Sometimes being an adult is a very good thing.
Blackberry Thyme Crostatas
yields 4 large crostatas (each serves 2 people)
Pie Crust
1 2/3 cup all-purpose flour
1 tablespoon granulated sugar
1 teaspoon salt
1 cup unsalted butter, freezer-cold, cut into 1/2" pieces
2 tablespoons vegetable shortening , freezer-cold
1/4 cup ice-cold water, or more as needed
1 teaspoon distilled white vinegar
coarse sugar, for sprinkling*
Combine the flour, sugar, and salt in a food processor.
Add the butter and shortening, pulsing until you have pea-sized pieces of butter.
Combine the water and vinegar, and slowly add to the food processor, pulsing until a dough just comes together.
Form into a ball, slightly flatten, wrap in plastic, and store in the refrigerator.
*Note: We stumbled across vanilla bourbon sugar at a specialty shop that turned into an impulse buy. So our crust is sprinkled with vanilla bourbon sugar instead of regular coarse sugar.
Filling
1/2 cup granulated sugar
1 1/2 tablespoons cornstarch
2 teaspoons fresh thyme, finely chopped
1/2 teaspoon lemon zest, freshly grated
1 teaspoon vanilla extract
1 pint blackberries
starch water (1/2 cup water + 1 tablespoon cornstarch)
Preheat the oven to 375°.
Divide the pie dough into 4 equal pieces. Roll each out into ~6 1/2" circles. Place on parchment paper or silicon baking mat lined baking sheets.
Combine sugar, cornstarch, thyme, lemon zest, and vanilla in a medium sized bowl.
Add in the blackberries, muddling lightly and tossing with the sugar mixture.
Add 1/4 of the filling to the center of the each circle, leaving a 1" border around the edges.
Using a pastry brush, brush the edges of the circle with starch water.
Fold the edges up to form pleats and press them together.
Brush the top edges with starch water and sprinkle with coarse sugar.
Bake for 50-55 minutes, rotating the pan halfway through. You probably will need to bake the crostatas in batches. Be sure to keep the ones not being baked covered and in the refrigerator.
Remove from oven and allow to cool on sheet for 15 minutes before transferring to a cooling rack. Serve warm or cold (and preferably with ice cream).
slightly adapted from The Dahlia Bakery Cookbook (original recipe yields 8 crostatas)