Levain Bakery Style Chocolate Chip Cookies
Levain Bakery's massive chocolate chip walnut cookie was one of our must-haves when we visited New York a few years ago. It was almost delicious enough to convince me to go to Columbia for grad school instead of UCLA. A labmate of mine went to New York for a conference earlier this year and requested an attempt at a recreation after tasting its deliciousness. Of course, I accepted the challenge. There's nothing particularly special about the ingredients in the Levain Bakery cookies (apparently they don't even use vanilla which I find absolutely crazy)— it's more about how you bake them. Instead of smoothing out the balls of dough and pressing down slightly, you just throw a  heaping pile of dough on the cookie sheet and slightly underbake, so the centers stay slightly soft and the chocolate chips in the center are still melty hours after cooling.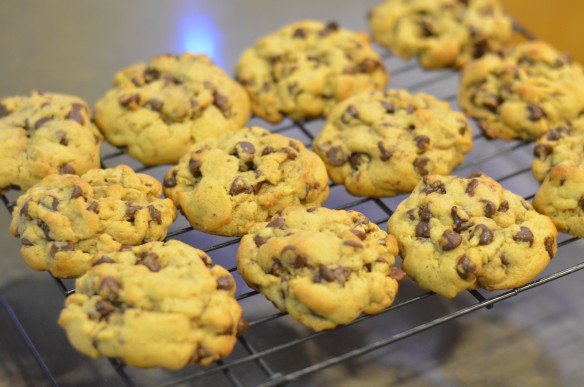 I brought these to our lab picnic at the Hollywood Bowl (we saw a beautiful tribute to Frank Sinatra celebrating his 100 birthday). I portioned the dough out in 4 ounce balls even though the real Levain uses 6 ounces per cookie, and everyone still commented on how ginormous these cookies were. I couldn't even fit a full dozen in my usual cookie container (it was also ridiculously heavy to carry from the car to the Bowl)!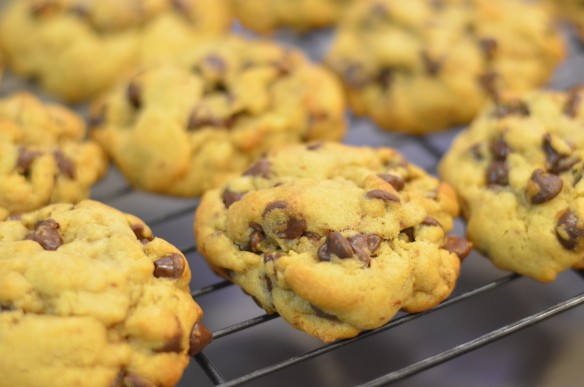 I omitted the walnuts from my recipe (since I was making cookies for a large group and I know that nuts in dessert can be polarizing) instead upping the amount of chocolate. Upping the amount of chocolate in the cookie gave an amazing cookie to chocolate chip ratio, which was highly recommended by several eaters. However, if you love walnuts or want to be more authentic, reduce the amount of chocolate chips ever so slightly and add in some chopped toasted walnuts.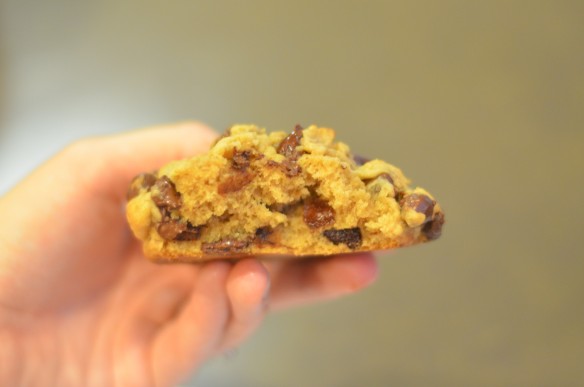 Best eaten warm from the oven!
Levain Bakery Style Chocolate Chip Cookies
Yields ~14 LARGE cookies
3 1/4 cups all-purpose flour
1/4 teaspoon baking soda
3/4 teaspoon baking powder
1 teaspoon salt
1 tablespoon cornstarch
1 cup unsalted butter, room temperature
1/2 cup granulated sugar
3/4 cup dark brown sugar
2 eggs
1/2 teaspoon vanilla extract
2 3/4 cup semi-sweet chocolate chips
In a large bowl, sift the flour, baking soda, baking powder, salt, and cornstarch.
In the bowl of a stand mixer, combine the butter and sugars until creamy.
Add in the eggs one at a time followed by the vanilla extract until smooth.
Slowly add the dry mixture to the wet mixture until just combined.
With a spatula, stir in the chocolate chips until even distributed.
Cover with plastic wrap and cover over night.
Preheat the oven to 375°.
Cover baking sheets with silicone baking mats or parchment paper.
Weigh out dough into 4 ounces portions. Form the dough roughly into a ball, but do not smooth or flatten when placing on the baking sheet. Only bake 6 cookies per sheet.
Bake for 15-17 minutes until edges are golden brown and centers are slightly underbaked.
Allow to cool on baking sheet then transfer to a cooling rack to finish cooling.