Spicy Whole Wheat Gingerbread
As mentioned previously, I'm binging on gingerbread this holiday season. I want to eat so much gingerbread this month that I'm sick of it and don't end up craving it for the rest of the year. I believe I am well on my way to my goal with this cake. I made this to serve as dessert to our guests after our Tex-Mex baked pasta. I've been reminiscing about the gingerbread breakfast cupcake from Crave Cupcakes that we'd occasionally pick up on our way to class, and I wanted to try to replicate that delicious powdered sugar covered cupcake-muffin.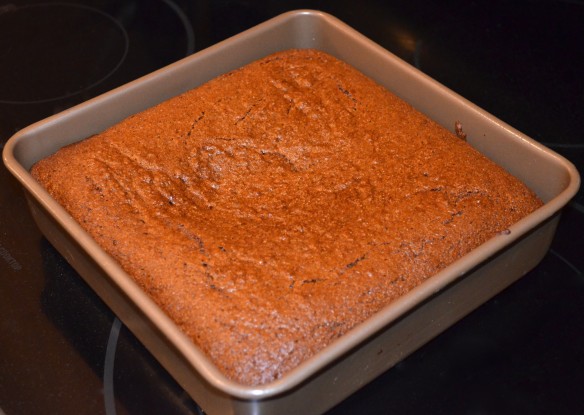 I found a recipe for Old-Fashioned Gingerbread online that got a lot of positive reviews, swapped out whole wheat pastry flour for the white stuff and upped the spices by a lot— tripling everything— since the only real complaints about the recipe involved it "lacking oomph." Boy, did I add the oomph! This cake had some kick! The flavor was great, if you like spicy gingerbread. My only issue was that the cake was not quite as moist as I would have liked it, so next time I think I will try making the cake with brown sugar instead. Everyone assured me it was delicious, but I'm a perfectionist, and next time I will completely nail it.
.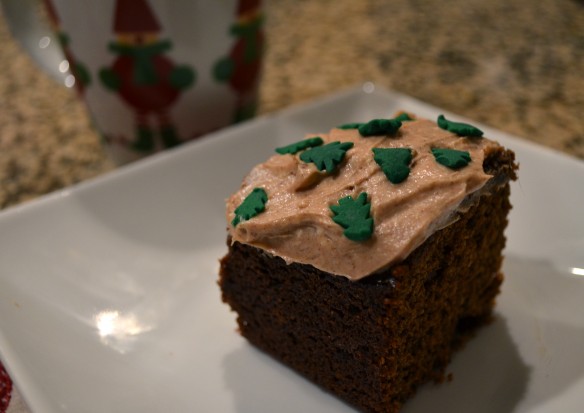 Not only was this a great, not-to-sweet dessert topped with some powdered sugar, but we ate leftovers for breakfast the next morning, whipping up a cream cheese frosting by combining a spoonful of butter, an ounce of cream cheese, a few spoonfuls of powdered sugar, and a sprinkling of cinnamon until a smooth, creamy texture was achieved. We added some Christmas tree sprinkles I found a TJ Maxx for a festive touch and served alongside a gingerbread syrup flavored coffee. Can you say gingerbread overload?