Almond & Blood Orange Scones
Blood oranges are my new favorite citrus fruit. All I've been dreaming of lately is a citrusy and sugary blood orange glaze. What could be a more perfect canvas on which to drizzle the fabulous combination of blood orange juice and powdered sugar than a scone? Make that an almond scone. Perfect with a chai tea latte or cup of coffee for a quick and low calorie breakfast. According to my calculations, these clock in at just under 100 calories a piece, so you can feel free to indulge in more than one!
I found a recipe for a healthy orange scone recipe and tweaked it significantly to my liking. Blood orange juice makes the glaze a pretty light pink color that would have been perfect for a Valentine's Day breakfast. We sure could have used a low calorie breakfast the morning of February 14th since we  were indulging in pizza and fatty desserts.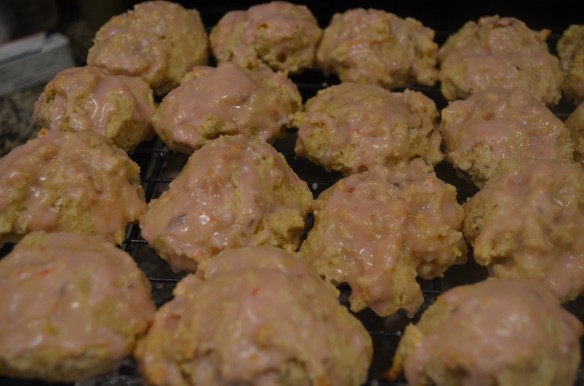 Almond and Blood Orange Scones
(adapted from Stop Eating All The Chocolates and the Weight Watchers Best Ever Desserts Cookbook)
(makes 24 scones)
1 cup all purpose flour
1 cup whole wheat pastry flour
1/4 cup granulated sugar
1 teaspoon baking powder
1/4 teaspoon baking soda
3 tablespoons butter, cold and cut into fine pieces
3/4 low fat buttermilk
1 1/2 teaspoons almond extract
1 egg
1 tablespoon grated blood orange
1/3 cup sliced almonds
1 cup powdered sugar
4 teaspoons of blood orange juice
Non-stick cooking spray
Spray baking sheet with non-stick spray and preheat oven to 400°.
Combine flours, granulated sugar, baking powder, and baking soda.
Cut the butter into the flour mixture until it resembles fine crumbs.
Fold in almonds.
Combine buttermilk, egg, zest, and almond extract.
Add buttermilk mixture to flour mixture until dough forms.
Using a cookie scoop, scoop batter onto cookie sheet.
Bake for 10 minutes (allow to cool for another 10 minutes).
While scones are cooling, mix together powdered sugar and blood orange juice to form glaze. Add more sugar or liquid until desired consistency is reached.
Pour glaze over scones. Allow to harden at least an hour.