Eggs: Four Ways
Dustin and I have gotten hooked watching Worst Cooks in America from the Food Network on demand. We started watching it out of curiosity, but it has actually really grown on us. If you haven't seen the show, two celebrity chefs (in the third season the chefs are Anne Burrell and Dustin's favorite, Bobby Flay) have a team of home cooks who have been nominated by their friends or families as being the worst cooks in America. In the end, each chef picks one of the cooks to represent them by actually pretending to be them, in a tasting by food critics. The winning contestant gets $25,000 and the winning chef gets bragging rights. In the beginning it's kind of like not being able to look away from a train wreck (a la American Idol), but after some lessons, certain cooks start to stand out, and it's pretty incredibly what they are able to accomplish in such a short period of time. It's fun to watch shows like Top Chef, but at the same time, it's nice to see average people in the kitchen, cooking up interesting things as proof that you can get better. It's also pretty funny when one of the contestants does something so completely crazy, you feel a little bit better about yourself and your own kitchen mishaps— "at least I didn't do THAT!" And the professional chef's competitive jabs at one another are pretty fun to watch as well.
I wouldn't want to be nominated as one of the worst cooks in America— I really hope Dustin doesn't think that of me. I hope my cooking skills are improving without having to be on the show, but these people are so incredibly lucky getting cooking lessons from these amazing chefs and getting to sample their awesome meals every challenge, that I really wouldn't mind being nominated for those kinds of opportunities.
On a recent episode, the contestants had to prepare a full scale breakfast with pancakes, bacon or sausage, and eggs prepared four ways— scrambled, sunny side up, over-easy, and poached. Occasionally, we will fry up an egg, but typically we're pretty boring and just scramble our eggs. We had never tried poaching an egg, so we used the show as inspiration to try out our egg cooking skills in our own egg, four ways, challenge. I think we did a great job. All of our eggs cooked pretty perfectly, not quite as easy when you are cooking four ways at the same time. I must say we were frantically trying to get everything plated properly since so much was going on.
We served the eggs over our leftover cheddar bay biscuits with a small drizzle of truffle oil, seasoned to taste with salt and pepper. Sorry for the glare in all of the pictures. We didn't want to take the time for a photo shoot of any sort— we wanted to eat!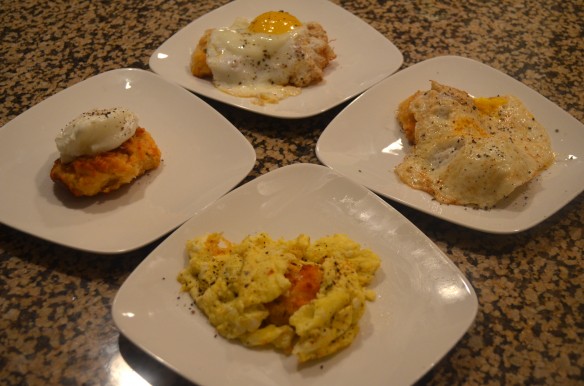 First, we prepared for poaching the egg. We brought water to a boil and then down to a simmer. We added a little vinegar for the whites to congeal as is recommended and created a small whirlpool in which we cracked the egg. Then we left it alone for three minutes and were rewarded with a perfectly poached egg.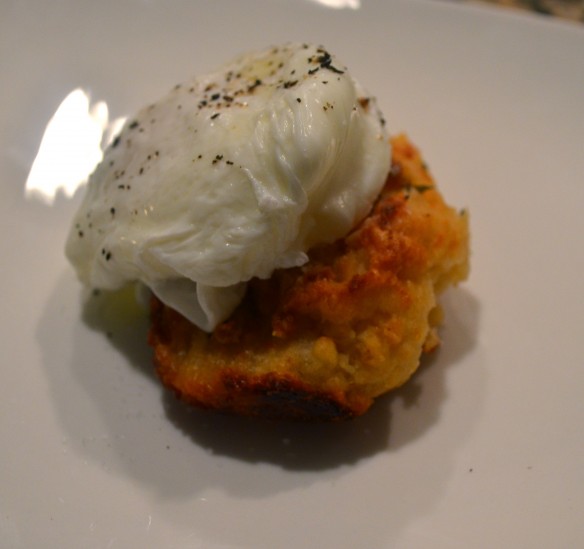 While the egg was poaching, we added some butter to a pan and fried two eggs. One was flipped to create an over-easy egg.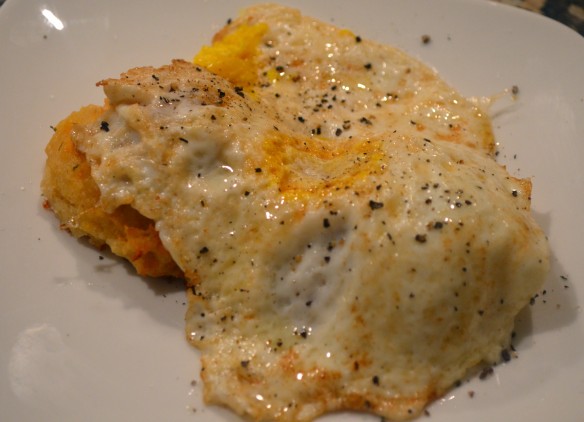 The other we left alone to create a perfect egg, sunny side up.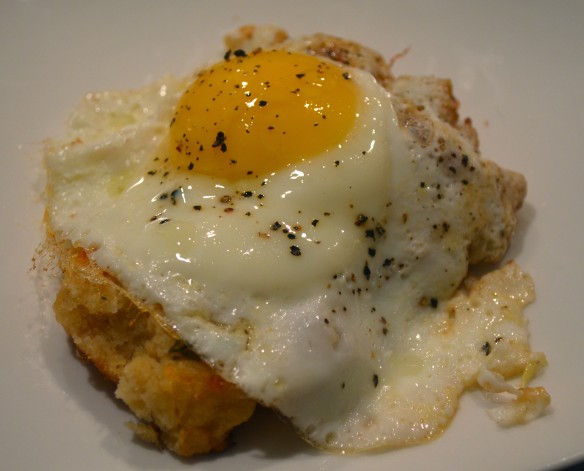 We also whisked up an egg with a little garlic powder, parmesan cheese, oregano, and a splash of milk for fluffiness and did some scrambling.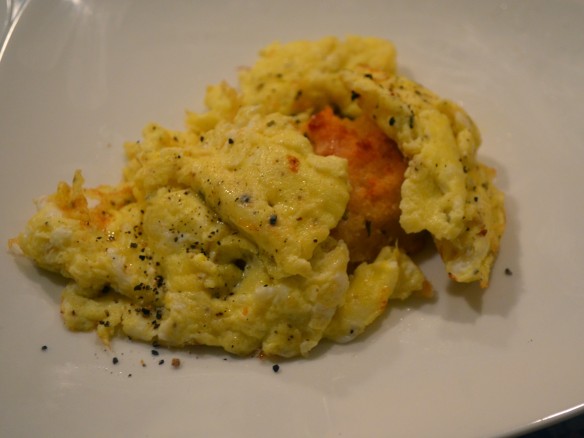 After sampling all of the different egg types, I personally think I like sunny side up and poached the best. I really like the runny yolks, and I think it will be fun to add fried/poached eggs to dishes like we see on so many of these cooking shows. Dustin went in thinking he would like over-easy the best since the yolk is cooked a little more, but he says after tasting all of our creations, he's with me and the runny yolks. And in case you didn't know, truffle oil on eggs in AMAZING!