Jumbo Creamy Chicken Taquitos
These are so much better than the taquitos you buy from the frozen section of the grocery store, plus they are baked, not fried, so they are healthier! There are a million different recipes out there, but we wanted to adjust the ingredients to our own taste preferences, so we threw our own recipe together. Success!
First, we took uncooked tortillas and heated them on a non-stick pan, which really gave the tortillas a fresh taste.
Next we made the filling— a cup of cream cheese, half a cup of sour cream, a cup of drained green chiles, about eight chopped scallions, the juice of two limes, three cups of shredded Mexican cheese, and two large chicken breasts, poached then shredded, along with a bunch of spices (salt, pepper, garlic powder, onion powder, cumin, adobo, and chipotle powder) all to taste.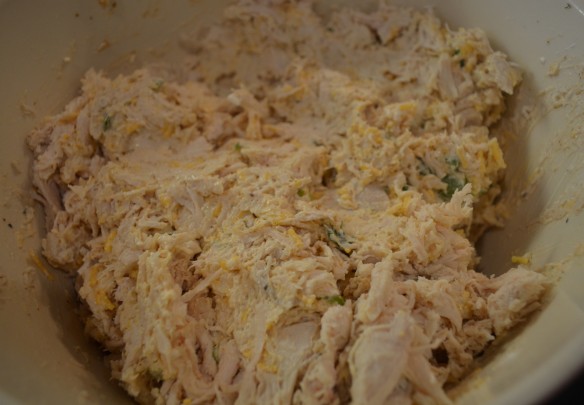 We placed the filling in the tortillas and rolled them up, spraying them with a bit of cooking spray. We were extremely generous in filling our taquitos, making approximately three dozen enormous, creamy chicken taquitos. Spraying the taquitos with cooking spray before baking allows the taquitos to get a little crispier— more fried-like texture when baked.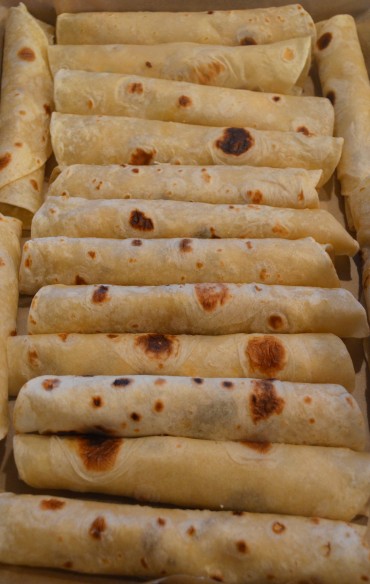 We baked the first batch (seen in the picture below) in the oven at 425° for 20 minutes, but we baked a second batch for 25 minutes and the edges got much browner and crispier— more taquito-like.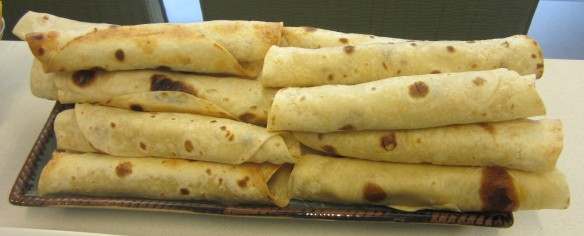 Dipped in chile con queso, guacamole or even just more sour cream, these jumbo chicken taquitos are the perfect Texas-sized appetizer for a Tex-Mex celebration!