Brown Sugar Ice Cream with Candied Bacon
In keeping with my recent tradition of adding bacon to desserts (example one and example two), now I have added it to ice cream, brown sugar vanilla ice cream to be specific. I saw this ice cream at a deli when visiting my parents in Evansville, but passed on ordering it to be a little healthier. However, the idea stuck in my head, so I made it at home in my handy dandy ice cream maker.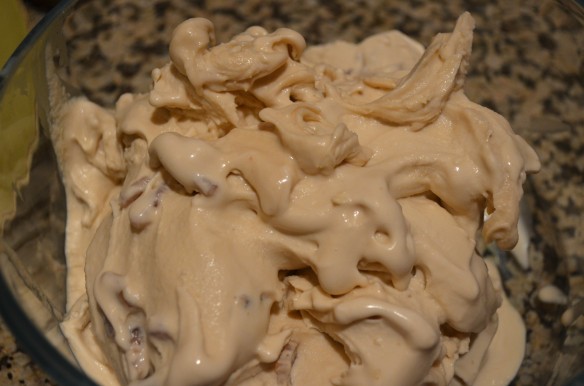 I baked maple smoked bacon covered in brown sugar in a low oven at 325° for 20 minutes to candy it. I created my own recipe for the ice cream, which I won't share because I don't think the texture was quite right— way too soft-servy. Most of the recipes on the web called for the use of a vanilla bean, which I didn't have at the time I made this, but have since purchased for such occasions. That's why I created my own, but I definitely recommend trying out one of the vanilla beans recipes that can be found online. The flavor combination of brown sugar and candied bacon is definitely meant to be highlighted though.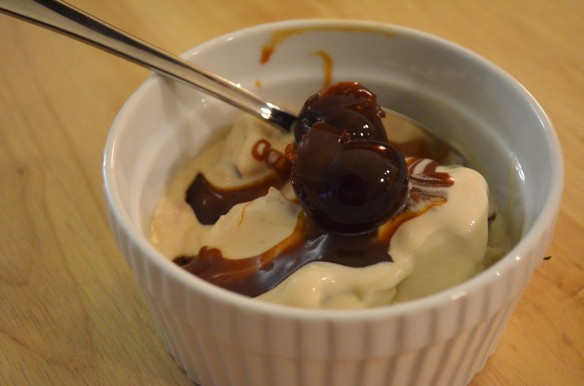 We served with warm extra salty caramel sauce and bourbon soaked cherries. This dessert, as we served it, is the ultimate combination of sweet and salty flavors. It felt like a dessert you'd order at a place like Brave Horse Tavern or someplace that similarly focuses on alcohol and bacon in it's menu.