Pepperoni Pizza Dip
Pizza dip is a delicious party snack and really incorporates all of the flavors of pizza. I saw a million different recipes last year and remembered that basically this dip is a creamy bottom layer topped with marinara sauce, cheese, and any pizza toppings you wish.
Of course I chose pepperoni as my main pizza topping. If I was just making this for me and Dustin, I would also add olives and maybe some peppers or other veggies, but we served this dip for a group of people (one of which was a very picky eater) and decided to keep it simple.
To make this particular version of the dip, combine an eight ounce block of cream cheese (softened), 1/2 cup of sour cream, and 1/2 cup of mayonnaise (light versions of all three work) with 1/4 cup of mozzarella and 1/4 cup of parmesan cheese. Then spread the cream mixture in the bottom of a pie pan (really brings new meaning to the term pizza pie) and cover with approximately two cups of pizza sauce (homemade or pre-bought works if you you are trying to make this in lightning fast time). Cover the tomato sauce with another layer of cheese (1/2 cup of mozzarella and 1/2 cup of parmesan) and add on the pepperoni.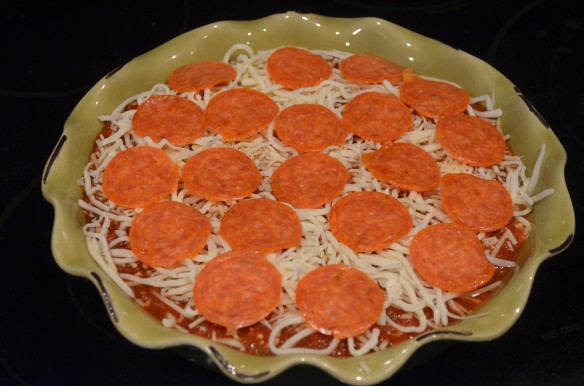 Bake in the oven at 350° for 20 minutes until the cheese has melted.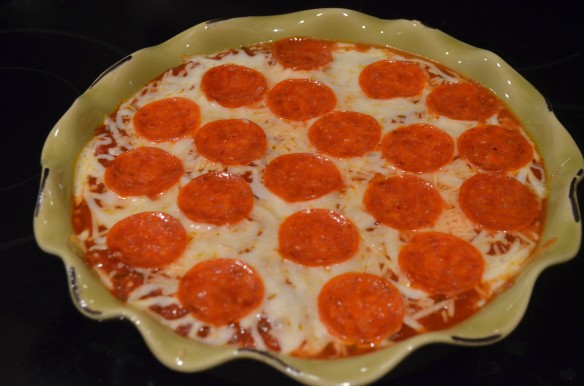 It seriosuly looks like a pizza (and tastes like one)! We served with some toasted sliced sourdough bread this time around, but I bet this would taste amazing with some garlic breadsticks or these butter dips. Another great idea for football season entertaining!