Beer French Toast
As promised, here is the other recipe that used up the rest of the oatmeal stout from those delicious oatmeal stout raisin cookies, and it is a good one. So there is this food blog called The Beeroness that I have recently discovered, and it is absolutely amazing. Everything is made with beer, particularly craft beers, and I seriously want to try everything I see. There are not enough days in the week. So creative.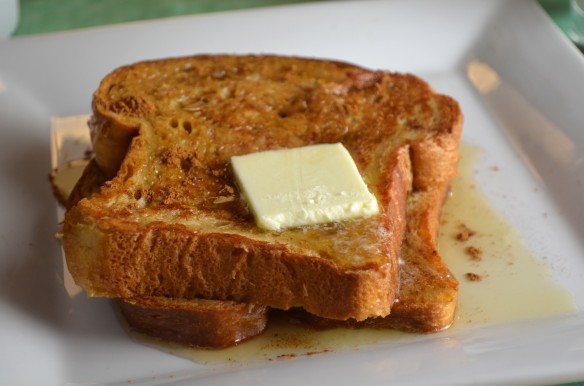 First up is this delicious beer-infused French toast. Instead of using vanilla bean porter, we used oatmeal stout of course, but the result was still fabulous (especially topped with our fancy maple syrup from Canada).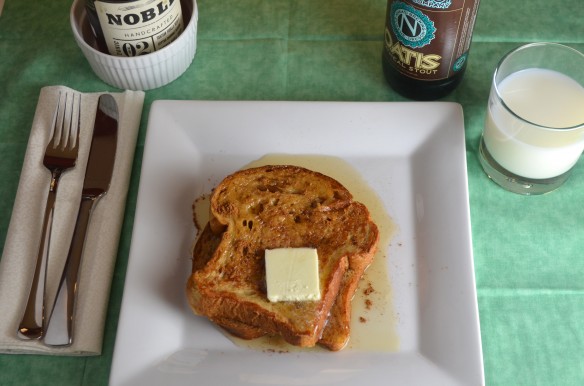 First we combined a cup of milk with 2/3 cup of oatmeal stout, 1 cup milk, 1/2 cup of sugar, 3 eggs, and 1 teaspoon of vanilla before dipping thick slices of Macrina brioche bread into the mixture. We grilled these babies up on the griddle for a few minutes on each side until they were a perfect, slightly crunchy, golden brown. So delicious with the perfect amount of the oatmeal stout flavor, they were really quick and simple to make for brunch. They're definitely worth trying with some other beers like the vanilla bean porter or this creme brulee beer currently sitting in our fridge, that I have been told that if I am to like any beer on its own, it will be this beer. I'm not too optimistic, so I haven't tried it yet. However, I'm very much enjoying incorporating beer into everything I eat.