Hatch Chile Croque Monsieurs
As the final hatch chile recipe (until we decide to bust out the frozen ones later on this winter), we made these incredible hatch chile croque monsieurs from Foodie Bride. I really like how this blog did a whole series of recipes using hatch chiles. I also like that this blog is based out of Houston and the fact that they are fellow Texan fans. As soon as I showed Dustin this recipe via email, he was already volunteering to pick up the essential supplies on his way home from work. What a sweet guy— or very, very motivated by the thought of devouring croque monsieurs (one or the other). We ended up eating them for dinner, and they were simply delicious.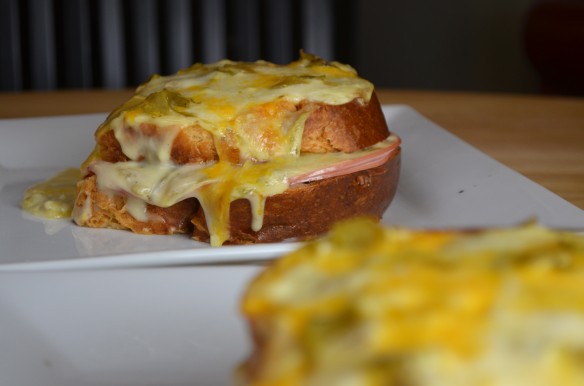 I don't want to describe the process of making them because I just ate lunch, and I will be tempted to make one of these for a second lunch. I'm afraid when Dustin looks at these pictures he's going to start begging me to make them again like last time we made croque madames (croque monsieurs plus a fried egg on top), but I'm weary for the sake of our waistlines. Look at all of that oozy gooey cheese on top. Just delicious.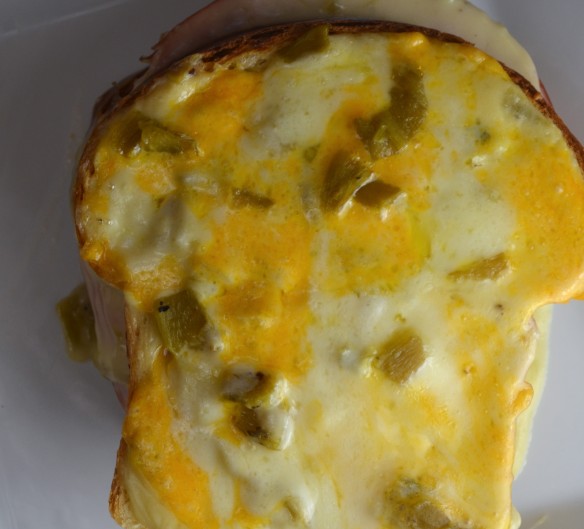 An absolutely brilliant flavor combination. Seriously if there is one hatch chile recipe you must check out, it is this one!