Hatch Chile & Pepperoni Pizza
I lied yesterday when I said no more hatch chiles, but now I promise this is truly the last one (for the time being). Hatch chile and pepperoni pizza! Match made in heaven! This pizza inspiration also comes from Foodie Bride, and once again, I feel a little stalkerish doing this, but these hatch chile recipes are too good not to post and are a definite reflection of what we've been eating lately.
I used our fast pizza dough recipe, covered it with some leftover marinara sauce, shredded white cheddar cheese with hatch chiles and colby jack, as well as chopped hatch chiles and pepperoni leftover from pepperoni dip, and we had a dinner to make at the end of a week in which we were otherwise completely out of groceries and planned meals.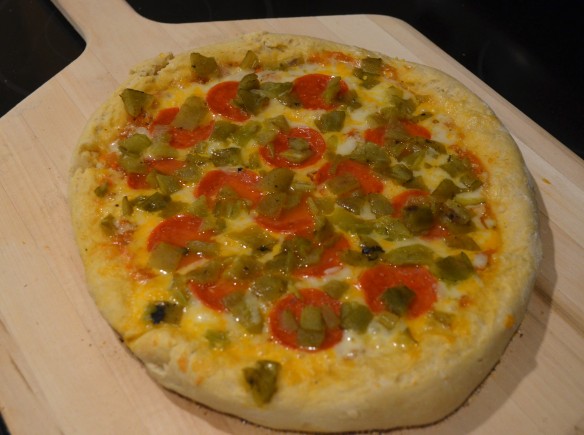 We made the crust really thick this time, and it came out to be absolutely perfect. We even managed to put enough cornmeal on our pizza stone that we were actually able to get our pizza out completely intact with absolutely zero structural damage— definitely a first for us.
Ok, now I really promise I am done with hatch chiles. Thanks for putting up with me!
Sweet Bonnie got a bath while we were making this pizza. I'm not even going to share what happened such that she needed an immediate bath for fear of ruining your appetite as you look at a food blog, but I promise she was in dire need of some soap and water. She would have rather just shared in our pizza eating!