Apple Cinnamon Rolls
I love cinnamon rolls. I have a special list of variations on a cinnamon roll that I want to try. Apple cinnamon rolls are one variation that I can now cross off of that list. My cinnamon roll list is one that just keeps growing and growing, but I rarely get to cross off. When I saw this recipe for apple cinnamon rolls with Jack Daniel's cream cheese frosting on Baked by Rachel I knew I really, really had to make these. Soon.
Of course, I want to eat cinnamon rolls for breakfast and not have to wake up ridiculously early on a Sunday morning to accomplish that goal. Either you prepare the dough the day before and let it sit it the refrigerator or you use a no-yeast recipe. I went the no-yeast route, so I didn't follow the original recipe for the dough.
I did however follow the recipe for the filling (using Gala apples). It was very similar to the filling for the Southern Comfort apple pie before you add the SoCo, of course.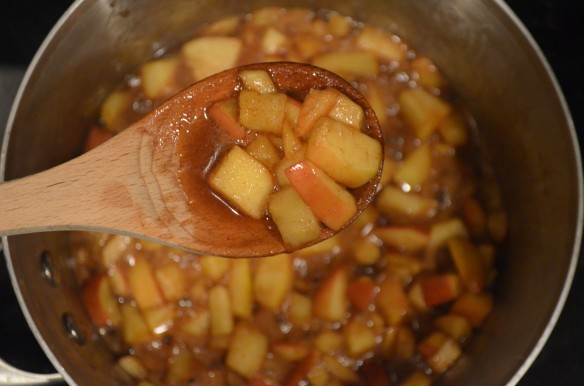 I could literally just eat this straight from the pot!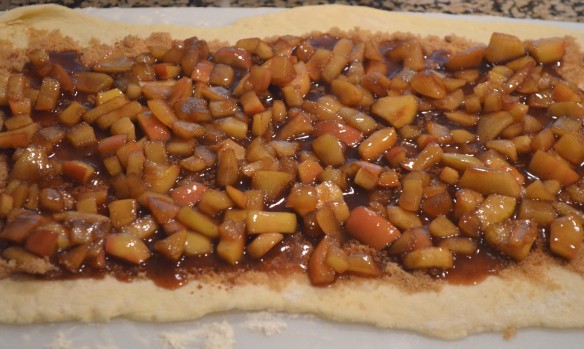 Instead we spread it on the rolled out dough, rolled the dough up and sliced it.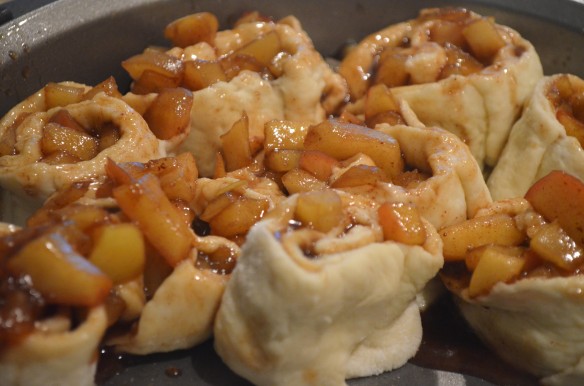 And put it (messily) in a baking dish. There was so much oozing, caramel-y goodness spilling out everywhere. It gave the rolls delightfully sticky-sweet bottoms.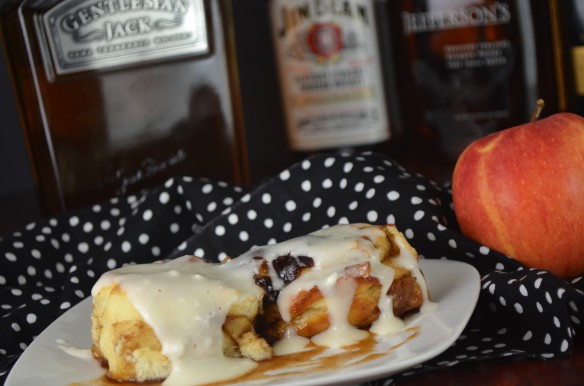 This Jack Daniel's frosting is a real winner and the true star of these cinnamon rolls in my opinion. We used Gentlemen Jack because Dustin likes to stock the good stuff (and you don't use very much— 3 teaspoons in the whole batch mixed with 2.5 ounces of cream cheese, 2 tablespoons of milk and a cup of powdered sugar). We didn't drizzle the icing on like in in the pictures from the original post; we drenched our rolls with icing— and practically licked our plates clean as though we were Bonnie!
These apple cinnamon rolls pack a real punch (in a good way). I promised myself I was only going to eat two. I ate three and wanted even more. You should really check these rolls out on the original site because they are amazing, and as the original post says, "It's part breakfast, part dessert, and completely magical." I completely agree!