Pumpkin Pie Cheesecake Swirled Brownies
Now that we are solidly into the month October, I don't feel so bad completely obsessing over pumpkin in practically every dessert recipe I make. I really wanted to make pumpkin cheesecake brownies, but I have been eating A LOT of dessert lately (as you might have been able to tell if you've been reading) and wanted to make a somewhat healthy version that I wouldn't have to feel guilty about eating more than one in a sitting. I found a base recipe that used Greek yogurt on Fitsugar originally from Shape magazine.
Based on my calculations, each brownie has right around 115 calories, so I was pretty pleased with these brownies on that front. Taste-wise, I think these brownies were pretty good for "healthy" brownies, but I much preferred some of my older recipes. I think I'd probably rather have a full-fat, richer brownie, but for someone who needs a treat on a pretty strict, calorie counting diet, I think these are a much better alternative that those preservative-laden, pre-packaged diet brownies.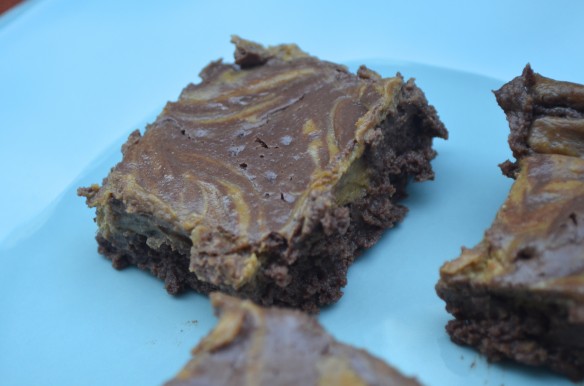 Pumpkin Pie Cheesecake Swirled Brownies
Adapted from Fitsugar and Shape— yields one 8"x8" pan
3/4 cup all-purpose flour
1/2 cup unsweetened cocoa
1/4 teaspoon salt
1/2 teaspoon baking powder
4 tablespoons butter, softened
2/3 cup sugar
2 eggs
1 teaspoon vanilla extract
1/2 cup nonfat Greek yogurt
1/2 cup pumpkin pie filling (or use pumpkin puree and add in pumpkin pie spice)
2 ounces reduced-fat cream cheese, softened
Cooking spray
Preheat the oven to 350°. Spray an 8"x8" pan with cooking spray.
Combine flour, cocoa powder, salt, and baking powder in a medium sized bowl.
In a large bowl, use an electric mixer to cream the butter and sugar. Add in the eggs, one at time, followed by the vanilla extract.
Fold in the Greek yogurt and combine until smooth. Pour into pan.
In a small bowl, combine the pumpkin pie filling and cream cheese. Dollop spoonfuls of the "pumpkin pie cheesecake" all across the top of the uncooked brownie. Use a knife to create a swirl pattern on the top half of the brownie.
Bake for 22-24 minutes. Brownies will look slightly underdone but will firm up when cooled. Once cooled, cut into 16 pieces.
*I stored these brownies in the fridge, and I liked them served colder, which gave them a unique, hybrid mousse/fudge texture*