Chocolate Peppermint Whoopie Pies
I present to you the next installment of my holiday baking adventure... chocolate peppermint whoopie pies!
My second attempt at making whoopie pies was much better than my first, that's for sure. I'm not sure where I went wrong last time because my batters looked quite similar (perhaps this time my usage of butter and shortening instead of all butter helped?), but for whatever reason the pies came out looking and tasting fabulous. I'm quite grateful.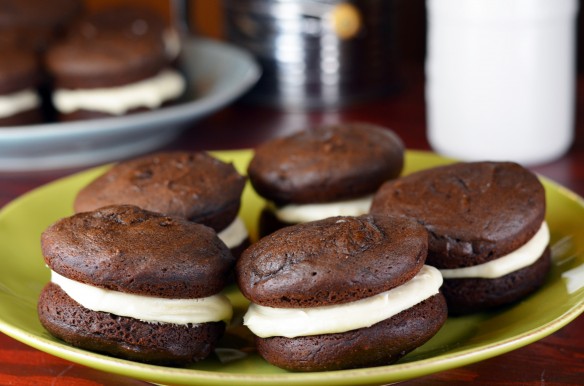 I've been dreaming of chocolate peppermint whoopie pies for a long time now, waiting for the holiday season to roll around so it'd be appropriate to make them. These did not disappoint. They are absolutely ginormous, and they taste like a hybrid of chocolate cake and York peppermint patties (my second favorite candy growing up, after 3 Musketeers)!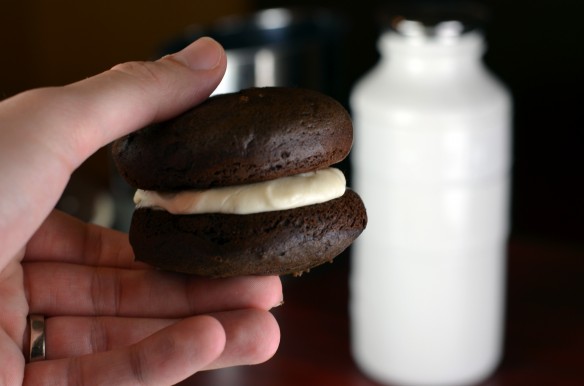 These would be made more festive by adding some crushed candy canes to the buttercream filling or around the edges, but I didn't have any, so my whoopie pies went plain and were still a big hit.
Chocolate Peppermint Whoopie Pies
yields 1 dozen (HUGE) pies
Chocolate Pies
1 3/4 cup all purpose flour
2/3 cup unsweetened cocoa powder
2 teaspoons baking soda
3/4 teaspoon salt
1/4 cup unsalted butter, room temperature
1/4 cup shortening
1 cup brown sugar, packed
1 egg
1/2 teaspoon vanilla
1 cup milk
non-stick cooking spray
Preheat oven to 375°.
Sift flour, cocoa powered, baking soda, and salt into a medium bowl.
In a large bowl, cream together butter, shortening, and brown sugar with a hand mixer for several minutes until creamy.
Add in egg and vanilla and beat until incorporated.
Add in a third of the flour mixture followed by a third of the milk, alternating between the two until the everything is just mixed.
Spray whoopie pie pan with cooking spray and fill each cavity, using half of your batter. If you do not have a whoopie pie pan you can spoon the batter onto a parchment lined baking sheet with several inches of space in between each, so they have room to spread. Using the pans makes each of the "pies" uniform in size, which is difficult even using a cookie scoop.
Bake for 10-12 minutes, or until the cakes get puffy and spring back when lightly touched. Allow to cool in the pan for 10 minutes. Then transfer to a wire cooling rack.
Peppermint Buttercream Filling
1/4 cup unsalted butter, room temperature
1 1/2 cups powdered sugar
2 tablespoons heavy cream (or milk)
1 teaspoon vanilla extract
1 teaspoon peppermint extract
Mix together butter and powdered sugar with a hand mixer on low speed.
Add in cream, vanilla, and peppermint extracts and mix until the perfect frosting consistency is reached.
Assembly
To assemble, use a knife to spread some of the buttercream on the bottom of one of the "pies." Then make a sandwich!
Roll in crushed candy canes if desired.
Personally I feel a single one of these is the perfect size to split with a friend. Dustin disagrees. You can make these more individual sized in a mini whoopie pie pan or by spooning out smaller spoonfuls of batter. Be sure not to overfill the whoopie pie pan cavities. I started out by doing this and ended up with only 11 whoopie pies. Whoops!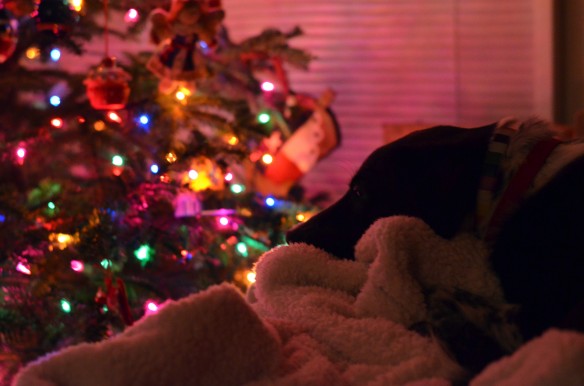 Here's Bonnie curled up with her new favorite blanket waiting for Santa!