Buffalo Turkey Lasagna
Clearly Dustin and I love the flavors of buffalo wings (see these burgers and this dip), so it was only a matter of time before we incorporated those flavors into something else, say lasagna.
I am astounded at no-boil lasagna noodles. They allow your dish to come together so much faster than having to wait for your water to boil, then the noodles to cook (not like that's hard or anything, but it does take time), and the texture of the pasta is always perfect, never soggy and falling apart.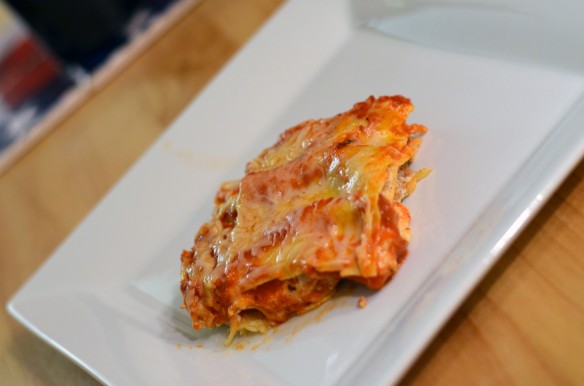 For the filling, I decided to use lean ground turkey instead of chicken to change things up ever-so-slightly, and naturally it was just as addictive as every other "buffalo" dish we've ever tried!
Buffalo Turkey Lasagna
Serves 8
1 pound lean ground turkey
2 1/2 cups marinara sauce, divided
2 large eggs
1/2 cup hot sauce
1/2 cup blue cheese dressing
1 1/2 cups part-skim ricotta
1/4 cup water (possibly)
9 no-boil lasagna noodles (or enough to cover a 9"x13" pan with 3 layers)
1/4 cup parmesan cheese
non-stick cooking spray
Preheat oven to 350°.
Spray a 9"x13" baking dish with non-stick cooking spray.
In a large bowl, mix together turkey, 2 cups of marinara sauce, eggs, hot sauce, blue cheese dressing, and ricotta. If mixture is not moist enough, add in up to 1/4 cup of water.
Line the baking dish with a layer of noodles followed by half of the filling, another layer of noodles, then the rest of the filling.
Top the last layer of noodles with the rest of the marinara sauce and the parmesan.
Cover with aluminum foil and bake for 45 minutes covered, then another 5-10 minutes uncovered until it is thoroughly heated.
Allow to cool slightly before slicing and serving.