Pineapple Coconut Banana Bread
A year ago we were anxiously awaiting our wedding and possibly even more excitedly the warm, tropical climate and beaches of Jamaica. I suppose now we are anxiously awaiting the beaches of Los Angeles in a few months. Until then we will savor the flavors of warm beaches in our food— like this coconut and pineapple banana bread. I'm starting to like using coconut oil as a replacement for butter and vegetable or canola oil in baked goods. It keeps things nice and moist and actually has some health benefits.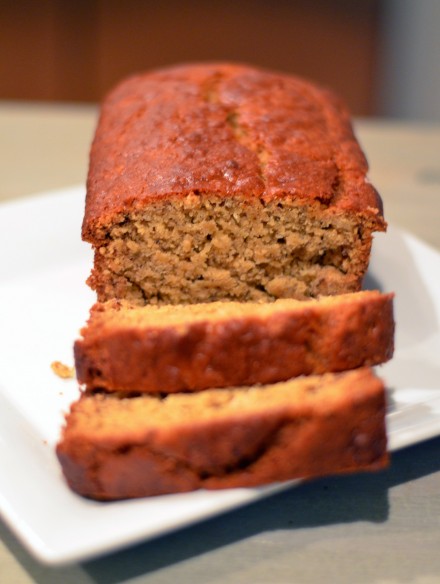 Pineapple Coconut Banana Bread
yields 1 9"x5" loaf
2 cups whole wheat pastry flour
1 teaspoon baking powder
1 teaspoon baking soda
1/4 teaspoon salt
1/2 cup coconut oil, softened
1 cup granulated sugar
1 tablespoon vanilla extract
3 medium bananas, mashed
1 8-ounce can crushed pineapple, undrained
1 cup shredded coconut (I only used 1/2 cup, but I definitely think it needed more coconut flavor)
Preheat the oven to 350º and spray a 9"x5" loaf pan with cooking spray.
In a medium sized bowl, sift together the flour, baking powder, baking soda, and salt. Set aside.
Using a mixer, beat together the coconut oil and sugar until homogenous. Add in vanilla.
Stir in bananas, crushed pineapple, and coconut until mixed throughout.
Pour into prepared baking pan and bake for an hour or until a toothpick inserted into the middle comes out cleanly.