Strawberry Shortcake Scones
I read an article in one of the local magazines about how to make an amazing strawberry shortcake using ginger biscuits from a Seattle bakery, which sounded pretty tasty to me. But with my dessert list quite lengthy already, the copious amounts of baking I've been doing over the last few weeks, and the fact that this particular bakery is located all the way across town in Ballard, I thought it might be better to change it up and use my box of strawberries in a breakfast treat instead of running to get ginger biscuits. But why couldn't the idea of strawberry shortcake and a breakfast muffin (or scone!) be combined I thought? I figured cream scones like the ones we had as an accompaniment to our afternoon tea in London and then in Vancouver taste pretty similar to the biscuits used in strawberry shortcake, so add some chopped strawberries to a scone recipe and there you have it. Strawberry shortcake scones.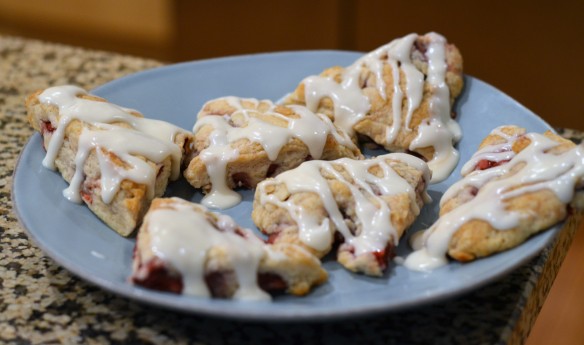 Well, Alaska From Scratch already had my idea, but seeing those pictures confirmed to me that making these scones would be a good idea. These are not on the healthier side as were the oatmeal banana bread scones, so I only allowed them for breakfast one morning! They too were then shipped off to work with Dustin!
Strawberry Shortcake Scones
yields 18 small scones
Scones
2 cups all-purpose flour
1 tablespoon baking powder
3 tablespoons granulated sugar
1/2 teaspoon salt
5 tablespoons cold butter, cut into small cubes
1/2 cup quartered strawberries
1 cup heavy cream
Glaze
1 1/2 cups powdered sugar
1/4 cup heavy cream
1 teaspoon vanilla extract
Combine the flour, baking powder, sugar, and salt in a large bowl.
Using a pastry cutter, blend in the butter until there are no large chunks of butter remaining and the mixture resembles sand.
Add in the chunks of strawberries.
Slowly pour the heavy cream, being careful not to over mix.
Flatten the dough into two circles that are approximately 1" each on a parchment paper lined baking sheet. Cover with a dish towel and stick in the freezer for 30 minutes to harden.
Preheat the oven to 425º. Cut the dough circles into 8 equal pieces and spread out on the baking sheet.
Bake for approximately 15 minutes. Allow to cool on pan before transferring to a wire cooling rack to cool completely before icing.
To make the glaze, combine the powdered sugar, heavy cream, and vanilla extract in a small bowl and mix until smooth. Adding more powdered sugar or cream until desired texture is reached. Drizzle glaze over scones and enjoy!
cream scone recipe from America's Test Kitchen via Smitten Kitchen