Mushroom and Kale Calzones
It's been a long time since we've made a pizza, but wanting to change things up, we decided on calzones instead. All we had to do was decide on fillings. Obviously Dustin would have preferred pepperoni or sausage as the main ingredient, but trying to eat a tad healthier, I thought vegetable calzones would be a good way to incorporate some nutrients into our meal. I saw these mushroom and kale calzones and used them as inspirations with a few twists of my own. Between kale chips, the kale in the cinnamon braised short ribs, the kale on my fried chicken sandwich from Skillet, and these calzones, all in the same week, Dustin and I probably consumed more kale in a week than we had in our lifetime. But it's really growing on me, and I think we'll definitely eat it more.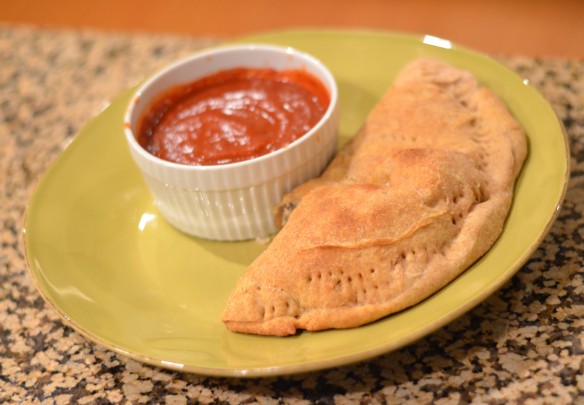 First, we steamed mushrooms and kale for several minutes with minced garlic. Then used chunks of fresh mozzarella inside whole wheat pizza dough in addition to shredded parmesan, ricotta, and lots and lots of Penzey's pizza seasoning. Next time I would definitely throw in some olives (preferably Kalamata). Olives make all pizza-y things better. I even had a can of black olives in the cabinet and can't believe I forgot to open them up.
I really like calzones since you get dip them in the pizza sauce instead of it already being incorporated. It adds a little extra fun to the meal!