Nutella Coconut Granola Bars
A few weeks ago we hiked up to Poo Poo Point in Issaquah and had a great time. Little did Dustin know that just a short time later his team at work would be back there hiking for a morale event. I wanted to be nice and send a special treat with the boy for himself and his co-workers to enjoy once they reached the top of the point. Granola bars seemed like the perfect snack.
Last summer when we went hiking, I made a couple of different varieties of granola bars using both peanut butter and cookie butter, so I figured it was about time time to change them up and throw some Nutella into the mix. I also decided not to include Rice Krispies in the recipe since I didn't have them on hand, and instead I created a recipe that required some baking to give the bars their crunch.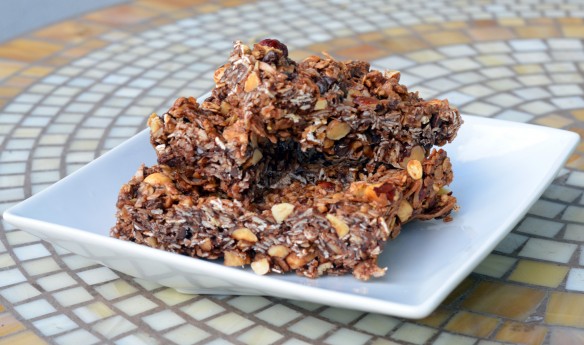 Everyone was pretty pleased with the final product, and one of the co-workers even emailed him that night asking for the recipe!
The bars do soften and will crumble if not kept cold, but they turn into delicious granola clusters, so it's really a no-lose situation!
Nutella Coconut Granola Bars
yields 1 8"x8" pan
3 1/2 cups oats
1/2 cup Nutella
1/4 cup agave syrup
1 large egg, lightly beaten
1/3 cup hazelnuts, chopped
1/3 cup sweetened shredded coconut
1/4 cup mini chocolate chips
Preheat oven to 350º. Line an 8"x8" baking dish with parchment paper and spray with non-stick cooking spray.
Combine all ingredients in a medium sized bowl and stir until all oats are uniformly covered.
Pour mixture into prepared baking dish.
Bake for 25 minutes.
Let come to room temperature and then put in the refrigerator for an hour to fully harden before slicing.
Best stored and served from fridge or else they will soften and break apart easily.