Smoked Chocolate Covered Espresso Beans
These chocolate covered espresso beans are proof that the simplest things can be elevated using high quality ingredients.
When Dustin's parents visited us over July 4th, we hit up Espresso Vivace in the Capital Hill area. We've gotten great coffee the last two years, but Vivace has by far been our favorite. It's such a shame we discovered it so close to our move away from Seattle. Nonetheless, the next time we went back, we picked up a bag of beans to take our basic morning drip coffee to the next level. Best drip coffee ever.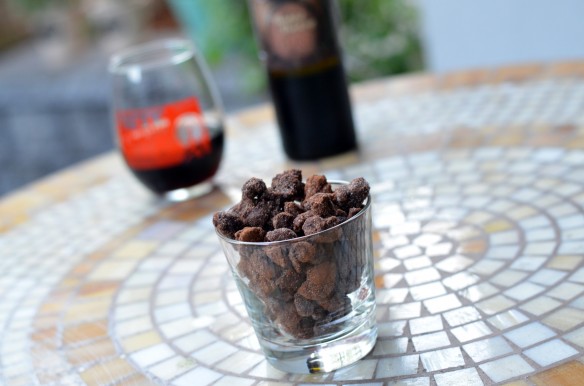 A few weeks later we visited our favorite dessert hot spot in Seattle, Hot Cakes Molten Cakery while we were out in Ballard waiting for my new convertible's one month checkup appointment. We picked up a container of smoked chocolate chips (previously seen in these cookies). They are ridiculously expensive, but are such a uniquely Pacific Northwest item that I had to pick them up once more before we left the area.
Combine those two amazing items, roll in a little cocoa powder and granulated sugar, and you are talking about a coffee and chocolate lover's nirvana. The smokiness in the chocolate complements the rich espresso taste and makes them ridiculously hard to stop noshing on. These could easily be sold for big bucks in a high end food or department store.
Makes a great nightcap served alongside chocolate port. We would definitely know!
Smoked Chocolate Covered Espresso Beans
2 tablespoons unsweetened cocoa powder
2 tablespoons granulated sugar
2.5 ounces smoked chocolate chips
1 teaspoon vegetable oil
1/3 cup freshly roasted espresso beans (we recommend Vivace Vita)
Line a baking sheet with wax or parchment paper.
Mix the cocoa powder and sugar together in a small bowl.
Melt the chocolate in the microwave on medium power in 30 second intervals.
Stir in the vegetable oil until smooth.
Dunk the espresso beans in the chocolate with a fork then remove the beans and place into the cocoa-sugar bowl.
Roll the beans in cocoa-sugar and then place on baking sheet. Try to separate the beans as much as possible, so you don't end up with clumps of beans.
Place in the fridge for at least 30 minutes for the chocolate to harden before serving.